Bokurano: Ours Volume 10 manga review
By Leroy Douresseaux
February 18, 2014 - 11:55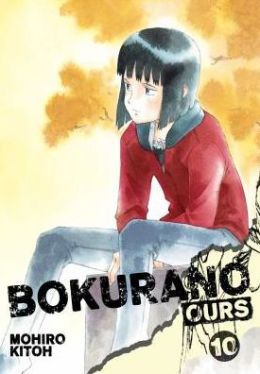 Bokurano: Ours Volume 10 is courtesy of barnesandnoble.com.
Rated "T+" for "Older Teen"
In the future, giant robots start invading Earth. The key to mankind's survival is a towering mecha known as Zearth, but this iron giant draws its strength from 15 teenagers, none of them yet in high school. By giving Zearth their power, these teens are sacrificing their lives. Each one that assumes the captain's chair for battle dies afterwards.
As Bokurano: Ours, Vol. 10 (Chapters 54 to 59) begins, Zearth is down to two pilots. Two children remain to fight for Earth's survival – a girl named Yoko Machi and a boy named Jun Ushiro. One of them, Yoko, is not even from this Earth, although she is scheduled to go into battle before Jun. Before the final battles begin, the two children go on a road trip to visit victims left behind in Zearth's wake, including the parents of their deceased fellow pilots.
THE LOWDOWN: Unless there is a surprise coming, the Bokurano: Ours manga is nearing the end. I've been reading this series on and off for three-and-a-half years, and I still find myself a little touched by the deaths of the young characters.
I don't think that Bokurano: Ours Volume 10 will earn the series new readers. If you are familiar with this series, Vol. 10 is a morbid and heartbreaking reminiscence of family, friends, victims, and colleagues past. This may be creator Mohiro Kitoh's way of reminding readers that the lives of these characters matter. Yes, this Young Adult manga is not juvenilia or escapist fantasy.
POSSIBLE AUDIENCE: Readers looking for science fiction Young Adult drama will find that in the VIZ Signature-IKKI Comix title, Bokurano: Ours.
Rating: A- /10
Last Updated: January 24, 2022 - 11:00