Bokurano Ours volume 1
By Chris Zimmerman
March 31, 2010 - 13:34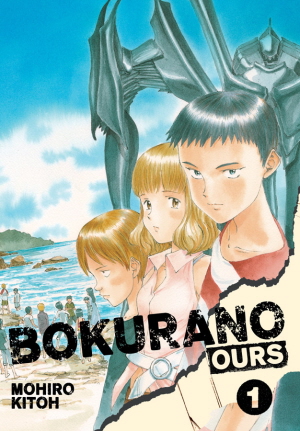 Bokurano Ours volume 1
The idea of giant robots has long been a stable in manga. Over the years, writers have struggled with ideas of keeping the genre fresh and interesting. Regardless of how they are featured, more often than not, their designs alone, if creative enough, will guide them to popularity allowing for an expansion into other media.
Bokurano Ours
strays from that mindset, focusing less on the "mecha" and more on the humans inside the machine.
When 15 children stumble into a cave, they encounter a man from an alternate world who offers them an opportunity to participate in a game unlike any other. Unfortunately, this is a game of life and death, as each one must pilot a giant robot and defend their earth from mysterious invaders.
As one would expect, explosions erupt in the middle of cities, buildings collapse, and those around are collateral damage. Surprisingly, it's not long before one of the children is killed in a twist that no one could have seen coming.
Where
Bokurano Ours
excels is its exploration of the children's emotions. Upon first seeing the robot, they are elated to learn that they will be piloting such a thing; however as time goes on, they see the amount of destruction their game creates, leading to the final straw when they lose one of their own. Of course, this is only the first volume, leading one to imagine that they still have a ways to go before declaring the game over.
The art, though nothing special, competently conveys the emotion and action taking place. The biggest complaint would have to be the lack of backgrounds in the panels as most are talking heads in white space.
This is a Viz Signature title and as such, the trim size of the paper is larger and the cover is given flaps, much akin to a book. This is an excellent treatment and at the very least, should entice potential buyers to take a look.
All in all,
Bokurano Ours
is an excellent addition to the Signature line. The focus on kid's growing discomfort allows for a more human story while still delivering the action that fans of the genre are fond of. The title should appeal to a fairly diverse audience and will most likely be
the series
to watch out for as the story develops.
Rating: 9 /10
Last Updated: August 31, 2023 - 08:12