Bokurano: Ours Volume 3
By Leroy Douresseaux
February 11, 2011 - 07:59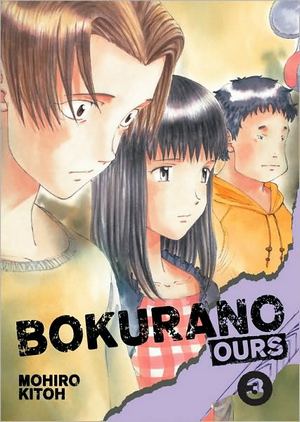 Bokurano Ours Volume 3 cover image is courtesy of barnesandnoble.com.
Rated "T+" for "Older Teen"
The science fiction manga, Bokurano: Ours, presents a scenario in which giant robots have invaded Earth. The key to mankind's survival is a towering mecha known as Zearth. However, this iron giant draws its strength from 15 teenagers, none of them yet in high school. By giving Zearth their power, however, these teens are sacrificing their lives.
In Bokurano: Ours, Vol. 3, Isao Kako and Chizuru Honda are next in line to pilot Zearth, which means they will shortly die. Kako is filled with rage, and he lashes out at even his few friends. This leads into a few confrontations between Kako and Honda. Honda decides to use her turn in the pilot chair to exact revenge on those who wronged her.
THE LOWDOWN: Because it is so a potent and poignant a human drama, I can forgive myself for thinking that Bokurano: Ours is a manga by Natsume Ono (the creator of Gente and not simple). Bokurano creator Mohiro Kitoh takes the larger fantastic framework of Bokurano and builds several rooms within that narrative. Each room contains an interconnected short story that is also a melodrama focused on one of the teenage pilots. These stories of betrayal and disappointment examine the heart of human interaction, which gives Bokurano an edgier and earthier tone than most mecha (giant robot) fiction.
POSSIBLE AUDIENCE: Readers who like science fiction character drama will like Bokurano: Ours.
A-
Last Updated: August 31, 2023 - 08:12