Bleach: Volume 53 manga review
By Leroy Douresseaux
Dec 1, 2012 - 17:02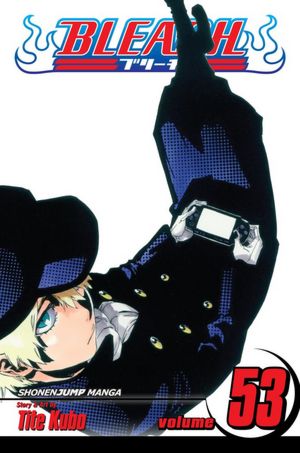 Bleach Volume 53 cover image is courtesy of barnesandnoble.com.
Rated "T" for "Teen"
Ichigo "Strawberry" Kurosaki never asked for the ability to see ghosts; he was born with that gift/curse. After his family is attacked by a malevolent lost soul called a "Hollow," Rukia Kuchiki introduces Ichigo to the world of the Soul Society. Ichigo becomes a Soul Reaper, dedicated to protecting the innocent from tortured spirits and also to helping those spirits find peace. Ichigo eventually defeats renegade Soul Reaper, Lord Sôsuke Aizen, stopping him and his allies from destroying the Soul Society.
At the cost of his Soul Reaper powers, Ichigo defeats Aizen. After that hard-fought victory, Ichigo returns to his normal life. Then, he meets Kugo Ginjo and the Fullbringers, who offer him a way to regain his powers.
POSSIBLE SPOILERS FROM PREVIOUS VOLUME: As Bleach, Vol. 53 (entitled The Deathberry Returns 2) opens, the truth of the Fullbringers plot has been revealed. Now, Soul Reaper heavy hitters, Renji, Byakuya, Toshiro, Kenpachi, and Ikkaku join Rukia, who arrived earlier, in a bid to take down the Fullbringers. Having tasted power, however, the Fullbringers aren't about to go away quietly. Now, Ichigo must embrace his new powers as he prepares to battle someone he thought was an ally.
THE LOWDOWN: December is the final month of VIZ Media's initiative to publish two Bleach graphic novels per month. Volume 53 is the second of the two December releases, and this is the month that the current storyline (or direction), "The Lost Agent Arc," explodes with surprises.
So, there are a lot of surprises, and I don't want to kill them for you, dear readers. After all, as of this writing (and posting), Bleach Volumes 52 and 53 are not on sale. I have them because VIZ Media's media rep provided me with copies, as he generously does with many other VIZ offerings. I can simply say that this is classic battle manga Bleach, featuring one-on-one battles drawn in Tite Kubo's bracing positive-space/negative-space graphic design style. Each battle has surprises, and even when you get the expected winner, how the victory came about is unexpected.
POSSIBLE AUDIENCE: Readers looking for the best Shonen Jump battle manga will want Bleach.
Rating: A /10
Last Updated: Dec 19, 2017 - 22:52