Bleach: Volume 48 manga review
By Leroy Douresseaux
September 26, 2012 - 13:20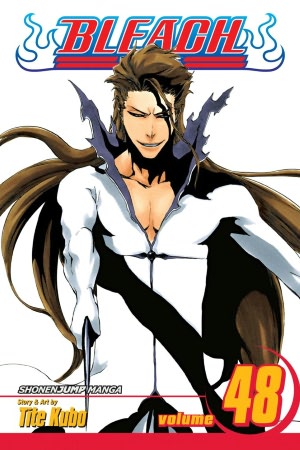 Bleach Volume 48 cover image is courtesy of barnesandnoble.com.
Rated "T" for "Teen"
Ichigo "Strawberry" Kurosaki never asked for the ability to see ghosts, but he was born with that ability. High school student Ichigo met Rukia Kuchiki, who introduced him to the world of the Soul Reapers and the Soul Society. Ichigo became a Reaper, dedicated to protecting the innocent from tortured spirits and also to helping those spirits find peace. Now, Ichigo and his comrades must stop renegade Soul Reaper, Lord Sôsuke Aizen, and his Arrancars from destroying the Soul Society and Karakura Town.
Bleach, Vol. 48 (entitled God is Dead) features the final battle between Ichigo and Aizen – for real. But what happens to both when the battle is finally over? How will Ichigo's world have changed?
THE LOWDOWN: VIZ Media continues its schedule of publishing two Bleach graphic novels per month (through December 2012). Volume 48 is the first of two volumes to be released in October, and it also marks the end of the "Arrancar Arc." I'm glad it's over, this war to save the Soul Society from a traitor with seemingly limitless power. At the same time, however, I will miss the craziness that was Aizen's war against his former brethren and his quest for some kind of godhood.
New readers would do well to jump on now and perhaps have their minds blown by the work of Tite Kubo. One thing that this volume's Ichigo/Aizen epic throw-down certainly emphasizes is that the Bleach manga has superb graphic design. In order for the storytelling to be complete, the art is structured, shaped, and devised to convey the depth of the power these super-powered individuals wield. Bleach is a thrill delivery machine.
POSSIBLE AUDIENCE: Readers looking for the best battle manga and fight comic books will find one in Bleach.
Rating: A /10
Last Updated: August 31, 2023 - 08:12