Bleach: Volume 47 manga review
By Leroy Douresseaux
September 3, 2012 - 17:59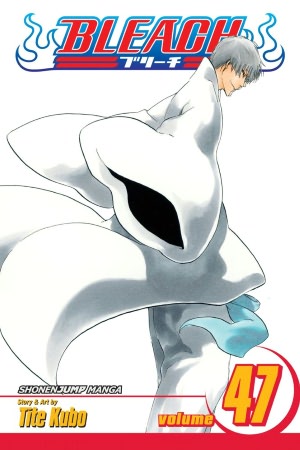 Bleach Volume 47 cover image is courtesy of barnesandnoble.com
Rated "T" for "Teen"
Ichigo "Strawberry" Kurosaki never asked for the ability to see ghosts, but he can because he was born with that ability. When he met Rukia Kuchiki, high school student Ichigo's life changed forever. She introduced him to the world of the Soul Reapers and the Soul Society. Now a Reaper himself, Ichigo is dedicated to protecting the innocent from tortured spirits and also to helping those spirits find peace.
As Bleach, Vol. 47 (entitled End of the Chrysalis Age) begins, it is clear that Ichigo, Isshin Kurosaki, Kisuke Urahara, and Yoruichi cannot defeat the renegade Soul Reaper, Lord Sôsuke Aizen. Can anyone? Undefeated, Aizen and his acolyte, Gin Ichimaru, continue on to their mission to destroy Karakura Town.
Meanwhile, Isshin takes his son, Ichigo, to the Dangai where he may hopefully learn the final Getsuga Tensho. His teacher, Tensa Zangetsu, may not be willing to teach him, and he also has something shocking to show the younger Kurosaki.
THE LOWDOWN: As VIZ Media continues it schedule of publishing two Bleach graphic novels per month, new readers will have the compressed experience of seeing why Bleach is one of the great comic books being published today. Regular readers can continue to devour the shear fight comic/battle manga ferocity that they obviously love.
This 47th volume does show something different. Creator Tite Kubo offers extended sequences featuring Ichigo's pals back in Karakura Town. Although even the friends are in on the action, this is still something different from Bleach's usual fight club.
POSSIBLE AUDIENCE: Readers looking for action comics will find one in Bleach.
Rating: A- /10
Last Updated: August 31, 2023 - 08:12