Bleach: Volume 44 manga review
By Leroy Douresseaux
August 5, 2012 - 17:50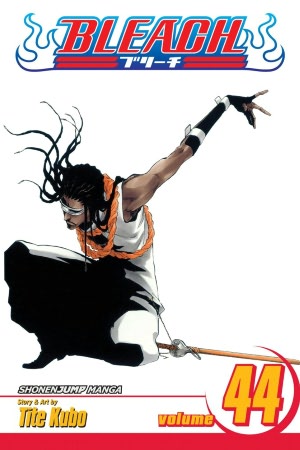 Bleach Volume 44 cover image is courtesy of Anime Castle Books.
Rated "T" for "Teen"
Ichigo "Strawberry" Kurosaki met Rukia Kuchiki, a meeting which changed his life. He was born with the ability to see ghosts. After a kind of malevolent lost soul called a "Hollow," attacked his family, Ichigo was introduced to the world of the Soul Reapers and the Soul Society. Now a Reaper himself, Ichigo is dedicated to protecting the innocent from tortured spirits and also helping those spirits find peace.
As Bleach, Vol. 44 (entitled Vice It) opens, Ichigo is throwing everything he has at the behemoth Cero Espada, Yammy Llargo. Soul Reapers Byakuya and Kenpachi arrive and send a disappointed Ichigo back to the world of the living. During the return trip, however, Ichigo learns just how powerful he could become.
Back in the world of the living, the renegade Soul Reaper, Lord Sôsuke Aizen, watches his Espadas battle the Soul Reaper captains over Karakura Town, but now, he joins the battle. Shinji Hirako believes he has the power to destroy Aizen. Meanwhile, cool black guy Espada, Kaname Tôsen, takes on man-wolf Soul Reaper Captain Sajin Komamura and Shuhei Hisagi. Before Tôsen joined Aizen in betrayal, Hisagi was his student. Komamura also has ties to Tôsen. Which of the two Soul Reapers will be able to deliver the killing blow?
THE LOWDOWN: VIZ Media continues to publish the Bleach manga twice a month, a schedule that began in June and will continue into December 2012. Two Bleach graphic novels every month is a good thing, especially now. Being able to read back-to-back Bleach volumes will give readers the chance to really appreciate creator Tite Kubo's unique style in creating battles. No other battle manga has such a unique graphic language; plus, the visual of the dark-skinned Tôsen really makes the art here pop. This is a cool and bracing read… as always.
POSSIBLE AUDIENCE: Those who want the best battle manga will find an elite treat in Bleach.
Rating: A- /10
Last Updated: August 31, 2023 - 08:12