Arata: The Legend Volume 18 Advanced manga review
By Leroy Douresseaux
May 27, 2014 - 17:36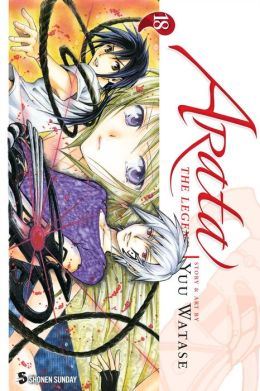 Arata The Legend Volume 18 cover image is courtesy of barnesandnoble.com.
Follow me on Twitter.
Rated "T" for "Teen"
Arata Hinohara, a high school freshmen living in the modern world, ends up in Amawakuni. This land in another dimension is a world where humans and gods coexist. Arata switches places with an Amawakuni boy who is also named Arata (also known as Arata of the Hime). Hinohara is chosen to wield a Hayagami (a god in sword form) named Tsukuyo so that he can save Princess Kikuri. Arata lives on Earth, while Arata Hinohara goes on a life-changing journey.
Arata: The Legend, Vol. 18 (Chapters 168 to 177) opens on Oninaki Island. That is where Arata of the Hime, Imine Oribe, and Nao (Arata Hinohara's little sister) are vacationing. Harunawa, an enemy, has also followed them, and he wants to kill Arata. Their brutal battle brings out a surprise in Oribe.
Meanwhile, on Amawakuni, Arata Hinohara and his friends: Kotoha, Mikusa, Yataka, Kannagi, and Yanagi prepare to face another of the Six Sho, the group that is determined to destroy Princess Kikuri. Now, they confront Isora, who wields the power of the written word and who seems impossible to defeat.
THE LOWDOWN: The Arata: The Legend manga is in the midst of good run. Vol. 16 of this graphic novel series was inconsistent in terms of quality. Vol. 17 was a vast improvement, and Arata: The Legend Volume 18 continues this welcomed trend.
As I wrote in my review of Vol. 17, Vol. 18 takes place in both the modern world and in Amawakuni. Both worlds are the settings for exciting and riveting stories, but it is not just the action and titillation that are cause for readers' joy. Creator Yuu Watase also opens up the secrets of her series, probably being more revelatory than she has been in some time.
POSSIBLE AUDIENCE: Fans of creator Yuu Watase will want the Shonen Sunday title, Arata: The Legend.
Rating: A- /10
Last Updated: August 31, 2023 - 08:12