Arata: The Legend Volume 15
By Leroy Douresseaux
September 8, 2013 - 17:22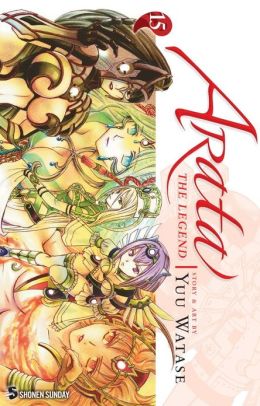 Arata The Legend Volume 15 cover image is courtesy of barnesandnoble.com.
Rated "T" for "Teen"
Arata Hinohara, a high school freshman who is the target of bullies, finds himself in Amawakuni, a world where humans and gods coexist. He switches places with an Amawakuni boy who is also named Arata. Hinohara is chosen to wield a Hayagami (a god in sword form) named Tsukuyo so that he can save Princess Kikuri. Arata lives on Earth, while Arata Hinohara goes on a life-changing journey.
As Arata: The Legend, Vol. 15 (Chapters 138 to 147) opens, Hinohara and his companions, Kannagi, Yataka, Mikusa, and Kotoha, have lost much, but know they must go on. Hinohara cannot get Tsukuyo, the god in his sword, to speak to him, which is upsetting. Heading for a showdown with his greatest adversaries, the Sevin Shinsho, he will need Tsukuyo's full power.
So Hinohara enters Ama No Iwakura, a sacred site where he can learn to communicate with the great power he possesses. His friends follow, but Hinohara finds that another friend is already waiting for him. Now, they must face the "Shadows." Meanwhile, two people close to Hinohara return to the story.
THE LOWDOWN: The current edition of the Arata: The Legend manga features rather straightforward tales of friends bonding, people confronting themselves, and new powers revealed. For the regular reader, this is a treat, as it portrays the characters taking a breather to gather their strength.
New readers will be confused by Arata: The Legend Volume 15. If they go back and start at the beginning, however, they will eventually get to Vol. 15, and find that it is a reward for all their patience.
POSSIBLE AUDIENCE: Fans of creator Yuu Watase will want the Shonen Sunday title, Arata: The Legend.
Rating: A- /10
Last Updated: August 31, 2023 - 08:12