Arata the Legend: Volume 19 manga review
By Leroy Douresseaux
September 11, 2014 - 11:22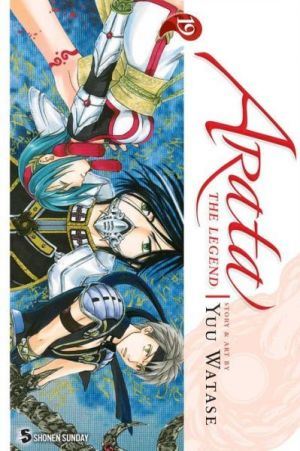 Arata The Legend Volume 19 cover image is courtesy of barnesandnoble.com.
Follow me on
Twitter
.
Rated "T" for "Teen"
Arata Hinohara
is a Japanese high school freshmen living in the modern world. Then, he travels to another dimension and ends up in
Amawakuni
, a world where humans and gods coexist. Arata switches places with an Amawakuni boy who is also named Arata (known as Arata of the Hime). Hinohara is chosen to wield a
Hayagami
(a god in sword form) named
Tsukuyo
so that he can save Princess Kikuri. Arata lives on Earth, while Arata Hinohara goes on a life-changing journey.
Arata Hinohara and his friends:
Kotoha
,
Mikusa
,
Yataka
,
Kannagi
, and
Yanagi
prepare to face Isora. He is another of the
Six Sho
, the group that is determined to destroy Princess Kikuri. Isora wields the power of the written word and seems impossible to defeat after he steals Hinohara's ability to speak.
As
Arata: The Legend

, Vol. 19
(Chapters 178 to 187) opens, Isora offers Hinohara a deal. He must answer the question: Is
Masato Kadowaki
his friend or his enemy? Once upon a time, Kadowaki was Hinohara's friend; now, he is in Amawakuni, and he wants to make Hinohara submit to him. Can Hinohara answer this question that will save his life and the lives of others.
Meanwhile, Kadowaki arrives and is determined to fight Isora and make him submit to his Hayagami,
Orochi
. Plus, learn how Isora was betrayed and in turn, betrayed others.
THE LOWDOWN:
Recent volumes of the
Arata: The Legend
manga have been pretty good – some of series creator
Yuu Watase
's best storytelling.
Arata: The Legend Volume 19
is one of my favorites.
When Watase focuses on central conflict for several chapters, rather than bouncing around from one part of Amawakuni to another, the series soars. In Vol. 19, the focus is on the hate-triangle of Isora, Hinohara, and Kadowaki and that makes for some excellent fight comics. However, Watase also uses the conflict to reveal more about each character. The story offers a wealth of conflicts between friends, plus, some envy, regret, and resentment. Suddenly, Hinohara and Kadowaki are more interesting than they were in earlier volumes of
Arata: The Legend
, and I'm ready for another volume.
POSSIBLE AUDIENCE:
Fans of creator Yuu Watase will want the Shonen Sunday title,
Arata: The Legend
.
Rating: A /10
Last Updated: August 31, 2023 - 08:12