Arata: The Legend: Volume 16 manga review
By Leroy Douresseaux
December 14, 2013 - 16:43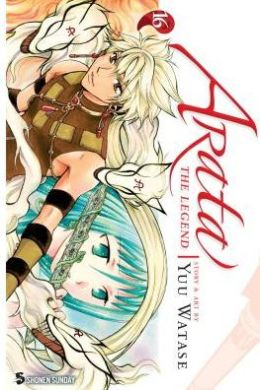 Arata The Legend Volume 16 cover image is courtesy of barnesandnoble.com.
Rated "T" for "Teen"
Formerly the target of bullies, high school freshman Arata Hinohara finds himself in Amawakuni, a world where humans and gods coexist. He switches places with an Amawakuni boy who is also named Arata. Hinohara is chosen to wield a Hayagami (a god in sword form) named Tsukuyo so that he can save Princess Kikuri. Arata lives on Earth, while Arata Hinohara goes on a life-changing journey.
As Arata: The Legend, Vol. 16 (Chapters 148 to 157) opens, Kanate, the former prisoner who joined Arata's cause, now allies with Masato Kadowaki. Kadowaki is a friend turned enemy of Arata Hinohara, and he is now in Amawakuni to make Hinohara submit to the Hayagami called Orochi. Kanate decides it is best to join Kadowaki in order to keep an eye on him.
The Six Sho need Kadowaki to destroy Tsukuyo. That will allow them to destroy Princess Kikuri, an act that will open a portal for them to return home. They also double their efforts against Hinohara. Meanwhile, Hinohara and his companions, Kannagi, Yataka, Mikusa, and Kotoha, enter Tsuguchi to do battle with Kikutsune, on one of the Six Sho. The hills of Tsuguchi are alive with the sound of music, however; music that places them under a powerful spell.
THE LOWDOWN: Recently, I have enjoyed the Arata: The Legend manga. Arata: The Legend Volume 16 is kinda crazy and all over the place. The series is capable of more than just an odd moment or two, but this volume's battle of music and musical instruments verges on the surreal or even self-parody. And this story arc's musical madness continues next issue. The good thing about this is that we know the big confrontations between the heroes and their adversaries are approaching.
POSSIBLE AUDIENCE: Fans of creator Yuu Watase will want the Shonen Sunday title, Arata: The Legend.
Rating: B /10
Last Updated: January 24, 2022 - 11:00