Arata the Legend: Volume 21 manga review
By Leroy Douresseaux
March 11, 2015 - 20:13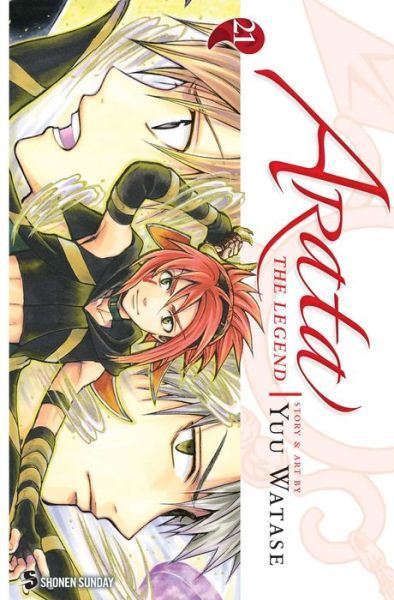 Arata: The Legend Volume 21 cover image is courtesy of barnesandnoble.com.
Follow me on
Twitter
.
Rated "T" for "Teen"
Arata Hinohara
, a Japanese high school freshmen living in the modern world, finds himself in another dimension,
Amawakuni
. It is a world where humans and gods coexist. Hinohara switches places with an Amawakuni boy who is also named Arata (known as Arata of the Hime). Hinohara is chosen to wield a
Hayagami
(a god in sword form) named
Tsukuyo
so that he can save Princess Kikuri. Arata lives on Earth, while Arata Hinohara goes on a life-changing journey.
As
Arata: The Legend

, Vol. 21
(Chapters 198 to 207) opens,
Yataka
and
Kannagi
, two Shinsho, suddenly begin battling each other. They joined Arata,
Kotoha
,
Mikusa
, and
Nasake
on a journey to face the
Six Sho
. Why are they fighting? If the fighting weren't bad enough, Kotoha, Mikusa, and Nasake are suddenly lethargic and don't feel like doing anything.
One of the six Sho,
Ikisu
, is using her scent
Kamui
, her power of scent, to affect everyone, including someone who makes a surprise return, Kanate. Soon, Arata will face self-doubt and even the threat of being demonized... again.
THE LOWDOWN:
Once again, the
Arata: The Legend
manga continues its recent run of exceptional volumes. I think that this run has been some of series creator
Yuu Watase
's best storytelling because, at this point in the narrative, she has focused on the conflicts, goals, and motivations of the main players. Each volume goes straight to the heart of the matter – who wants what and what are they willing to do to get it.
Arata: The Legend Volume 21
uses Ikisu's power to manipulate emotions to bring out the passion in this volume's players. I found myself racing through this invigorating read. I didn't want it to end. It is good when a series can still be surprising and fiery this far into the narrative.
POSSIBLE AUDIENCE:
Fans of epic-quest fantasy manga will want the Shonen Sunday title,
Arata: The Legend
.
Rating: A /10
Last Updated: January 24, 2022 - 11:00