Arata the Legend: Volume 20 manga review
By Leroy Douresseaux
December 11, 2014 - 20:15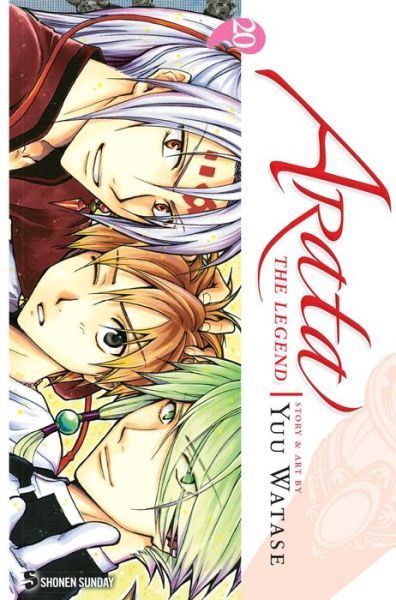 Arata: The Legend Volume 20 cover image is courtesy of barnesandnoble.com.
Follow me on
Twitter
.
Rated "T" for "Teen"
Arata Hinohara
is a Japanese high school freshmen living in the modern world. He finds himself in another dimension,
Amawakuni
, a world where humans and gods coexist. Hinohara switches places with an Amawakuni boy who is also named
Arata
(known as Arata of the Hime). Hinohara is chosen to wield a
Hayagami
(a god in sword form) named
Tsukuyo
so that he can save
Princess Kikuri
. Arata lives on Earth, while Arata Hinohara goes on a life-changing journey.
As
Arata: The Legend

, Vol. 20
(Chapters 188 to 197) opens, Arata Hinohara and his friends:
Kotoha
,
Mikusa
,
Yataka
, and
Kannagi
continue on their journey to face the
Six Sho
, enemies of Princess Kikuri. Hinohara also tells Mikusa that she is from his world and switched places with
Imina Oribe
, a girl on Earth who is really from Amawakuni.
Meanwhile, on Earth,
Harunawa
(one of the Six Sho) continues to track Arata and Oribe, with the intent of killing Oribe before she regains her Hime powers. Arata and Oribe discover the existence of the "
Demon Tree
," a giant, old tree that may have a connection to Amawakuni. As they make their way to
N Prefecture
, the site of the Demon Tree, Harunawa is not far behind. Back in Amawakuni,
Masato Kadowaki
continues to seek more power. Back on Earth, he was the former friend who bullied Hinohara. He switches places with Harunawa, and he wants more of this new world.
THE LOWDOWN:
The
Arata: The Legend
manga continues the recent run of exceptional volumes – some of series creator
Yuu Watase
's best storytelling.
Arata: The Legend Volume 20
has the benefit of offering even more of Arata of the Hime's adventures on Earth. He and Oribe's trip to N Prefecture with Harunawa on their heels is like a shonen manga
Logan's Run
. I think Arata's Earth adventures are enjoyable because they focus on fewer characters.
Back in Amawakuni, the number of characters has stabilized, but the subplots continue to grow. However, the story is rushing towards a conclusion, and I look forward to seeing this to the end. I must say that comic book readers who enjoy character design will want to try
Arata: The Legend
, as Yuu Watase is one of the best designers in manga.
POSSIBLE AUDIENCE:
Fans of creator Yuu Watase will want the Shonen Sunday title,
Arata: The Legend
.
Rating: A /10
Last Updated: August 31, 2023 - 08:12