Arata: The Legend Volume 24 manga review
By Leroy Douresseaux
September 8, 2016 - 20:49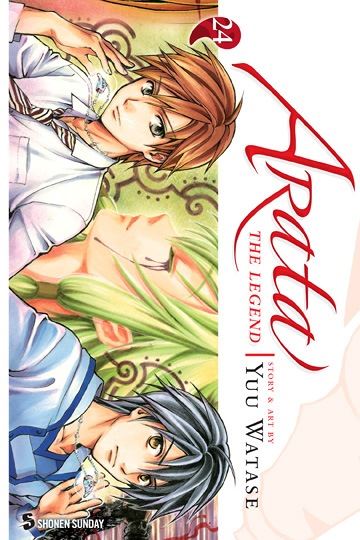 Arata: The Legend Volume 24
Rated "T" for "Teen"
Japanese high school freshmen,
Arata Hinohara
, lives in the modern world, so how does he find himself in another dimension? He switches places with another boy named Arata, who comes from
Amawakuni
, a world where humans and gods coexist. Hinohara is chosen to wield a
Hayagami
(a god in sword form) named
Tsukuyo
so that he can save
Princess Kikuri
.
Arata of the Hime
lives on Earth, while Arata Hinohara goes on a life-changing journey.
Arata: The Legend

, Vol. 24
(Chapters 228 to 237) opens in
Chiwaya
, the city of the Sho
Ameeno
.
Masato Kadowaki
, Hinohara's rival back on Earth, has just had his arm ripped off. Now,
Nasake
, Ameeno's son and Hinohara's ally, takes on his father in a brutal battle, at the same time another Sho,
Shimu
, launches a shocking attack. Back on Earth, Arata of the Hime and
Imina Oribe
take on
Harunawa
, who is on a rampage, demonizing everyone in town.
THE LOWDOWN:
The action in the
Arata: The Legend
manga gets more intense as the series gets closer to the end of things.
Yuu Watase
continues to surprise with new subplots and cool character designs, while getting even more mileage out of his best characters.
Arata: The Legend Volume 24
gives me what I want, more action with Arata of the Hime on Earth. This volume offers a demon version of a zombie apocalypse. Still, the Amawakuni half of the narrative is hot with Shimu's amazing attack, the type of which I totally did not expect. I find that
Arata: The Legend
can be inconsistent, sometimes within the same volume, but when it is good,
Arata
is really good. Vol. 24 is quite good.
POSSIBLE AUDIENCE:
Fans of epic fantasy manga and of Yuu Watase will want the Shonen Sunday title,
Arata: The Legend
.
A
Rating: A /10
Last Updated: August 31, 2023 - 08:12