Comics / Spotlight / Progressive Panels
House of Mystery: Halloween Annual #2
By Andy Frisk
October 31, 2010 - 00:19
A group of Gypsy-cursed Trick-or-Treaters from 1950's era Cleveland, Ohio arrive at the House of Mystery with quite a story to tell. It seems they've been going Trick-or-Treat for around 50 years or so, with no end in sight. After rolling, with toilet paper, the house of an old Gypsy woman who wouldn't give them any candy, she curses them to a never ending life of Trick-or-Treating. The kids' never ending trip takes them across time and space where they encounter Madame Xanadu, John Constantine, Gwen the zombie detective of iZOMBIE, and some demons from Mike Cary's classic Lucifer series. Variably raising hell or blending into the background, the kids (who have managed to grow old, but not up, over the years) serve as an excellent Halloween plot device that effectively strings this tour of DC Comics' Vertigo line together quite nicely.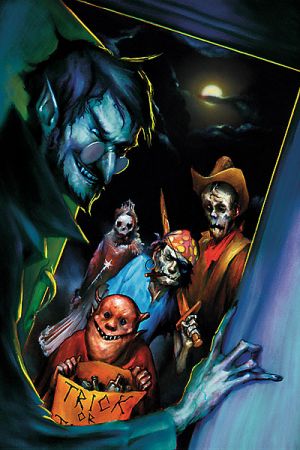 Each tale is told and illustrated by the current writing and artistic team on each book that is being highlighted. The Madame Xanadu tale is probably the best of the tales. This is ironic since the book has just been cancelled. Xanadu shows the kids that their curse is "a matter of choice" and that "should you so desire it, your lives can change and your traumas…be undone." The kids continue on though, pretty much disregarding Xanadu's advice, and revealing their character. The Madame Xanadu episode is particularly important as it takes place not long after the kids were cursed. Their trip could have been a pretty short one… The next best of the tales is the Hellblazer episode. Peter Milligan (scribe on yet another cancelled Vertigo series: Greek Street) and his artistic team of Giuseppe Camuncoli and Stafano Landini manage to weave yet another creepy, yet great, tale of the world's most down-on-his-luck mage. Constantine, always seemingly unlucky in love, is currently being plagued by a succubus named Gloria. Being Guy Fawkes Day (the British equivalent of Halloween), which is marked by a night of bonfires (which owes it tradition to the ancient Celtic festivals that directly inspired Halloween), reminds Constantine of an early adolescent romance that, as is usual for Constantine, goes bad in quite the macabre way. The best thing about Milligan's run on Hellblazer (as also evidenced here) has been its biting social and political satire and commentary. This is something that Hellblazer was lacking for quite some time, but has been rejuvenated under Milligan's stewardship. Hellblazer is Vertigo's flagship title, as it is the longest running Vertigo title ever, and is well deserving of its position at the head of the fleet of excellent Vertigo titles, especially now.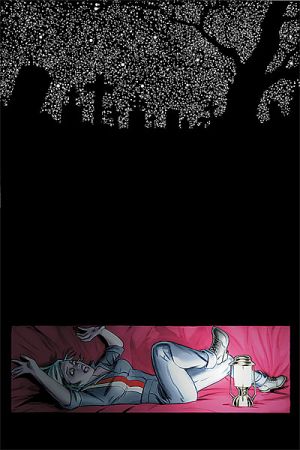 Cover art to iZOMBIE #5.
The iZOMBIE episode, while not particularly profound, is interesting, especially to readers of the series. It gives us a glimpse of Gwen pre-zombie phase. She steadfastly believes that there is no such thing as monsters, and attempts to prove her assertion with a midnight crossing of haunted Devil's Lake (a local setting to iZOMBIE) during Halloween 2001. Gwen will find out though that monsters are definitely real, at least in her universe, and that she will have to deal with being one herself soon enough…I picked up the first few issues of iZOMBIE, but then abandoned the title for no particular reason, but "Devil's Lake" made me want to pick up the title again. I forgot how much I love Mike Allred's simple yet incredibly visceral artwork. Anthology titles such as House of Mystery: Halloween Annual are supposed to serve up a healthy sampling of currently hot titles and encourage readers to pick up the regular series highlighted therein. In the case of iZOMBIE's tale the ploy worked...on me at least.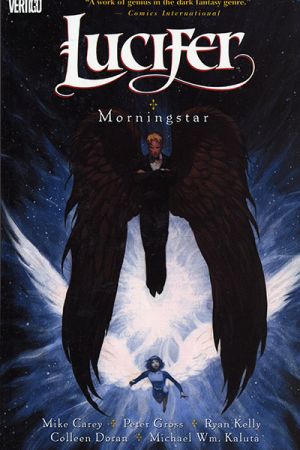 Mike Cary's current Vertigo title, Unwritten, is so complex and intricate that working the cursed Trick-or-Treaters plot in was probably too problematic. So Unwritten is sadly left out. Cary does tip his hat to long term Vertigo fans and readers by weaving the kids into an episode of his masterful Lucifer series though. Lucifer, as envisioned by Neil Gaiman in Sandman, took on the lead role in a title all his own shortly after Sandman ended its run. It was a title brilliantly penned by Cary, which really established him as a sequential art writer of extraordinary renown and reputation. Seeing Lucifer in print again in an original tale (even if he doesn't do anything new) is a treat. Maybe Cary can bring him back to life again at some point…well, I can always dream (like I do of Gaiman resurrecting Sandman…).
Overall, as I remarked in my look at DCU Halloween Special 2010, Halloween type comic books, i.e. horror comic books, are pretty much a dime a dozen. Really great Halloween comics though are pretty few and far between, and DC Comics' annual Vertigo Halloween offering is definitely one of the best.
Rating: 10 /10
Last Updated: February 5, 2023 - 09:06