VIZ Media Offers "Pokemon XY Pocket Comics" for Halloween ComicFest
By The Editor
October 28, 2016 - 20:41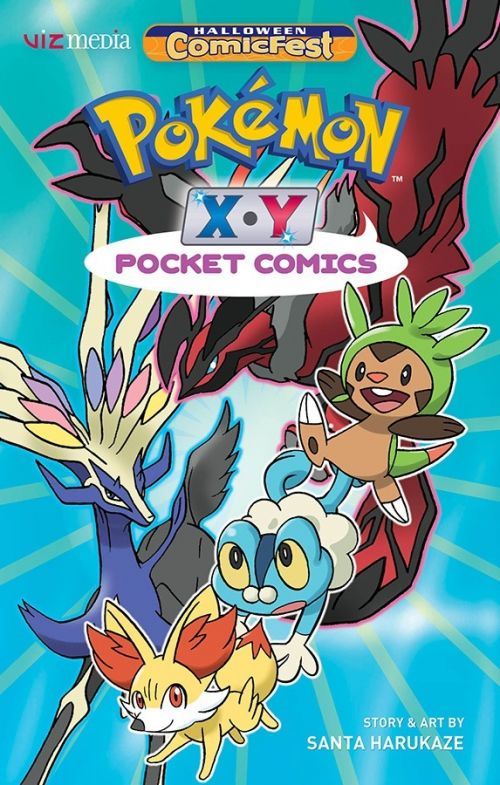 Halloween ComicFest 2016 Pokemon X-Y Pocket Comics manga sampler cover
VIZ MEDIA ANNOUNCES SPECIAL FREE POKÉMON X•Y POCKET COMICS MANGA SAMPLER FOR HALLOWEEN COMICFEST 2016
Support Local Comics Retailers With A Visit On October 29th And Receive A FREE Sampler Of POKÉMON X•Y POCKET COMICS Featuring Comics, Puzzles And Quizzes Based On The Popular POKÉMON X•Y Video Games!

VIZ Media, LLC (VIZ Media), a premier company in the fields of publishing, animation distribution, and global entertainment licensing announces its support for Halloween ComicFest 2016 with a special FREE POKÉMON X•Y POCKET COMICS sampler that will be available to readers at their local participating comics retailer.
Held annually, Halloween ComicFest will be celebrated on Saturday, October 29th at scores of comic shops and retailers nationwide on Halloween or the Saturday just before Halloween. On this day, participating shops offer fans and visitors FREE Halloween ComicFest samplers filled with previews of exciting upcoming titles. For additional information and a list of participating retailers, please visit: www.HalloweenComicFest.com.
The POKÉMON X•Y POCKET COMICS sampler features an array of stories, puzzles and trivia based on the popular Pokémon X and Pokémon Y video games. Readers can quiz themselves and their friends on various Pokémon Abilities, moves, types, Mega Evolution and lots more! The full POKÉMON X•Y POCKET COMICS (rated 'A' for All Ages) features story and artwork by Santa Harukaze and will be released by VIZ Media in December.
POKÉMON is one of the most successful international entertainment franchises of all time. More than 279 million POKÉMON video games and over 21.5 billion Pokémon Trading Cards have been sold in more than 74 countries in addition to substantial publishing and merchandise sales. VIZ Media is the official North American distributor for a wide variety of POKÉMON home media releases including animated series and films and also publishes a variety of POKÉMON manga graphic novel series including Pokémon Adventures, Pokémon Adventures: FireRed & LeafGreen, Pokémon Adventures: Emerald, Pokémon Adventures: Diamond & Pearl/PLATINUM, Pokémon Adventures: HeartGold & SoulSilver, Pokémon Adventures: Black & White and POKÉMON X•Y.
For additional information on POKÉMON titles as well as other anime and manga titles distributed and published by VIZ Media, please visit www.VIZ.com.
Last Updated: February 5, 2023 - 09:06