Comics / Comic Reviews / DC Comics
izombie #1
By Andy Frisk
May 7, 2010 - 23:37
Gwen Dylan isn't your normal young and attractive gravedigger. She's a zombie who keeps her condition at bay by consuming one human brain a month. She's a good zombie though. She only eats the brains of the recently deceased. She isn't particularly happy about her situation. The brains taste awful, and there's the unpleasant side affect of the absorption of the recently deceased's memories. Gwen makes up for her grotesque, but necessary, actions by performing the duties of a sort of…zombie detective. She's compelled to solve the mysteries of the dead brain's former owner's deaths, and on occasion fulfill their need for vengeance…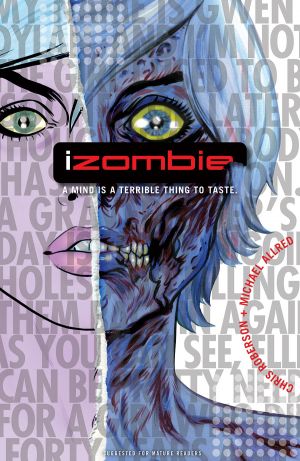 izombie, written by Chris Roberson (Cinderella: From Fabletown With Love), penciled by Mike Allred (Madman), and created by them both, is a perfect amalgamation of Allred's pop art horror/humor artistic style and Roberson's mystery/sci-fi storytelling. Gwen and her needy friend Ellie, (who died 40 or so years ago and is stuck in the early '60's, fashion and lingo wise) are just a couple of gals trying to get along in the big bad world of Eugene, Oregon while dealing with a hunger for fresh brains and being a ghost, respectively. Their pathetic pal Scott (nicknamed "Spot" by Gwen), who has a major puppy love crush on Gwen, is also trying to get along and fit in while dealing with being a were-terrier. Yes, that's right…a were-terrier. Spot turns into a man sized terrier when the moon is full. They aren't the only ghoulish creatures masquerading as hipsters in Eugene though. A group of female vampires who run a nighttime paintball retreat and a couple of monster hunters also bump around in the city night.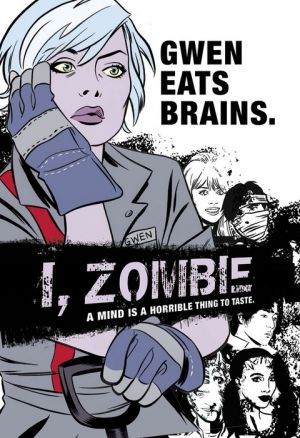 Roberson and Allred's styles fit hand in glove, and their tale of hipster/GenX monsters gets off to an interesting start. Beyond the fact that the characters introduced in izombie #1 all have their supernatural crosses to bear, they're normal gals and guys who look like they'll be dealing with everyday life dramas on top of their unique…conditions. Gwen doesn't seem to be particularly or solely motivated to do nothing but good deeds for the deceased whose brains she has to consume ("Okay. Okay. I'll catch the killer for you. Maybe then you'll shut up?"), but isn't completely unsympathetic to the need to right a wrong. To what extent her pals Ellie and Spot will be involved in her good deeds remains to be seen, but between nights out and trips to the local all night retro '50's diner "Dixie's Firehouse," they'll probably end up lending a hand.

The story is perfectly suited for Allred's pop art/hipster style of artwork. Ellie's go-go girl outfit and hairdo, Spot's grunge inspired look, and Gwen's modern alt-rock girl ensemble all capture and reflect each character's personality and supernatural condition. Allred's work is always a refreshing experience when showcased in a book like this, and is a welcome break from the dominant superhero/sci-fi realism based work that is the standard in most comics today. While this realism is great, sometimes it's fun to switch gears and enjoy a little pop art sensibility and lightheartedness.
izombie looks to be the type of book that DC Comics' Vertigo imprint needed to round out its incredibly strong string of titles currently in publication. Is it as politically charged and historically relevant as Northlanders or DMZ? No. Is it as profound as Fables? No. Is it as important as Unknown Soldier or as frighteningly odd as Sweet Tooth? No. It's not meant to be. It is a refreshingly hip horror/humor mystery tale served with a slice of life. Or in other words, it's great.
Rating: 8.5 /10
Last Updated: February 5, 2023 - 09:06