Comics / Spotlight / Progressive Panels
DCU Halloween Special 2010
By Andy Frisk
October 27, 2010 - 23:42
Halloween is one of my favorite holidays. It marks the beginning of my favorite time of year: autumn. The break in the heat (and we get some pretty high heat where I live), the turning of the leaves, the lengthening of the evenings, the deepening blue of the sky, and, of course, the trio of holidays that accompany the autumn months: Halloween, Thanksgiving, and Christmas, all come together to create the most magical time of year. DC Comics is one of my favorite comic book publishers. Batman and Robin, The Flash, Wonder Woman, Dead Man, The Teen Titans, The Demon, and (of course) Superman make up just a fraction of one the worlds best pantheon of superheroes. Each of the aforementioned heroes appears in the DCU Halloween Special 2010. DC superheroes and Halloween appearing together!? What more could a DCU and Halloween fan ask for?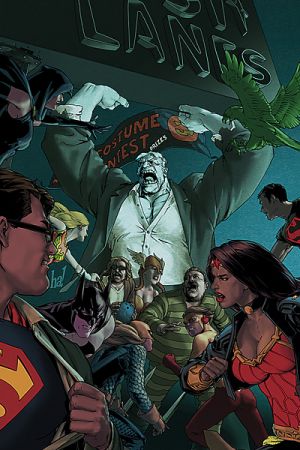 Halloween themed comic books, which are by extension essentially horror themed comic books, are not a rarity. In fact, some publishers such as Radical Publications produce more horror comics than sci-fi ones (the two genres dominate most of their books). With classic characters like Vampirella getting a new lease on life over at Dynamite Entertainment and Lady Death being resurrected over in the new Boundless Comics, characters that exist in horror filled fantasy universes abound as well. So if one is looking for some gore or a fright, the choices are nearly endless in the world of sequential art. What makes the annual DCU Halloween specials…umm…special…is that they take some of the DCU's marquee characters and put them into situations that they usually don't encounter, all within a Halloween setting that ranges from being pretty creepy to being pretty humorous. Superman's mind being possessed by a fear inducing and consuming demon, which has to be freed by the supernatural DCU hero (and legendary Jack Kirby character) The Demon, The Flash encountering the DCU's version of Frankenstein the Monster (who is a superhero) during a battle with a demon in disguise, Batman having to rescue (yes, RESCUE) The Scarecrow from the clutches of some Halloween trick or treaters dressed as The Dark Knight himself, Batman and Robin teaming up with Andrew Bennett of I…Vampire! fame to eradicate some Blood Moon Cult members plaguing Gotham City, Wonder Woman teaming up with Deadman to battle an evil sorcerer, and the Teen Titans foiling Klarion the Witchboy's All Hallow's Eve evildoing in a very unique way (Klarion being a villain from the aforementioned early adventures of Kirby's Demon) are this year's example of some of the alternately fun and spooky tales that we get treated to every Halloween from DC Comics. Situations and adventures such as these could easily take place in the pages of these respective heroes' own books, but putting them together in a unique Halloween special that captures the…ah…spirit of the season, which is a mixture of the humorous and the spooky, ties these timeless characters to the real world that you and I inhabit. A world that annually celebrates, or at least acknowledges, the holiday that kicks off the mystical "dark half" of the year, according to ancient Celtic scholars, and serves, for us moderns, as the beginning of the autumn holiday season in general.
Another aspect of the annual DCU Halloween Special that makes it an event worth looking forward to is that we often get to see some lesser used characters that haven't appeared in their own series recently brought back to life, if you will. The Demon, Klarion the Witchboy, and Andrew Bennett (in particular) are some of the prime examples of characters we're treated to seeing in action again. It really is surprising that Andrew Bennett isn't appearing regularly anywhere now, especially with the vampire pop culture craze going on. His stories, as they appeared in the pages of House of Mystery decades ago were really interesting and filled with social commentary. I for one would like to see an I…Vampire! resurrection…perhaps over at Vertigo? With the DCU proper reclaiming characters from Vertigo like mad right now, maybe they can part with this one for a while?
This year, readers of the peDCU Halloween Special are also treated to artistic work from the likes of Billy Tucci, Lee Garbett, and Stephen Thompson. They all demonstrate their considerable talent for bringing to life their assigned heroes and their Halloween adventures. Billy Tucci demonstrates his unique ability to stand apart from the crowd though with his pencil work that boasts very little ink and coloring which therefore creates a unique image that somehow communicates a slightly aged feel. The fact that his Batman appears to be Bruce Wayne (before the whole "Death of Batman" debacle) is a nice touch that Tucci's built in nostalgic look works well with.
Other publishers put out Halloween specials starring some of their more popular characters (although I can't think of a recent Marvel Comics special dedicated to the holiday…I may be mistaken though…), but the DCU Halloween Special is one that remains all ages friendly, fun to read, completely doused in autumnal flavor, and, most importantly, consistently published every year with a high level of quality storytelling and art.
Rating: 10 /10
Last Updated: February 5, 2023 - 09:06