VIZ Media Offers "Tomie" for Halloween ComicFest
By The Editor
October 28, 2016 - 20:23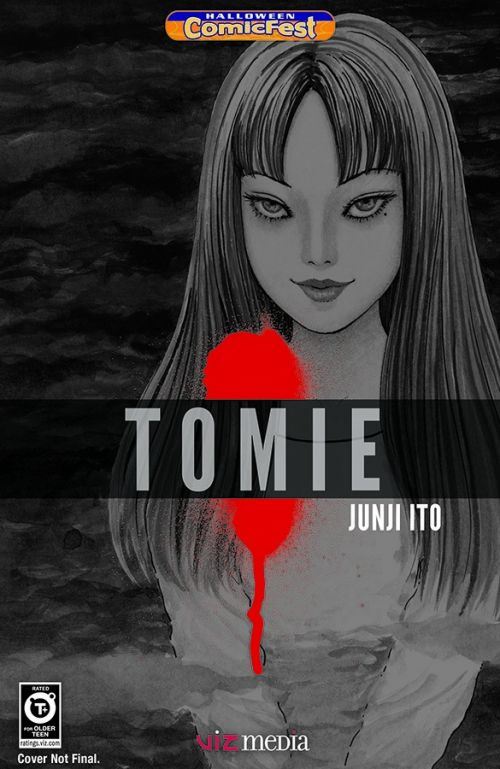 Halloween ComicFest 2016 Tomie sampler cover image
VIZ MEDIA SUPPORTS HALLOWEEN COMICFEST 2016 WITH MANGA SAMPLER FEATURING AN EXCERPT FROM HORROR MASTER JUNJI ITO'S TOMIE
Visit And Support Local Comics Retailers On October 29th For A FREE Sampler Of Upcoming VIZ Media Deluxe Release Of Junji Ito's Long Out-Of-Print Debut Series
VIZ Media, LLC (VIZ Media), a premier company in the fields of publishing, animation distribution, and global entertainment licensing, gives readers a special treat for its participation in Halloween ComicFest 2016 as it offers a FREE sampler that features an excerpt from manga horror master Junji Ito's spine-tingling thriller about an immortal femme fatale, TOMIE.
Held annually, Halloween ComicFest will be celebrated on Saturday, October 29th at scores of comic shops and retailers nationwide on Halloween or the Saturday just before Halloween. On this day, participating shops offer fans and visitors FREE Halloween ComicFest samplers filled with previews of exciting upcoming titles. For additional information and a list of participating retailers, please visit: www.HalloweenComicFest.com.
Tomie Kawakami is a femme fatale with long black hair and a beauty mark just under her left eye. She can seduce nearly any man, and drive them to murder as well, even though the victim is often Tomie herself. While one lover seeks to keep her for himself, another grows terrified of the immortal succubus. But soon they realize that no matter how many times they kill her, the world will never be free of Tomie.
TOMIE is scheduled to debut on December 20th as a hardcover Complete Deluxe Edition published under the VIZ Signature imprint.
Manga creator Junji Ito made his professional debut in 1987 and has gone on to be recognized as one of the greatest contemporary artists working in the horror genre. His critically acclaimed titles include TOMIE and UZUMAKI, which were adapted into critically praised live-action films, as well as GYO, which was adapted into an animated feature film. UZUMAKI, GYO and Ito's celebrated manga short story anthology, FRAGMENTS OF HORROR, are published in English by VIZ Media in deluxe hardcover editions available under the VIZ Signature imprint. Ito's influences include classic horror manga artists Kazuo Umezu and Hideshi Hino, as well as authors such as Yasutaka Tsutsui and H.P. Lovecraft.
For more information on TOMIE and other Junji Ito manga titles available from VIZ Media, please visit www.VIZ.com.
Last Updated: February 5, 2023 - 09:06