Mike Carey on "The Unwritten"
By Leroy Douresseaux
May 12, 2009 - 14:30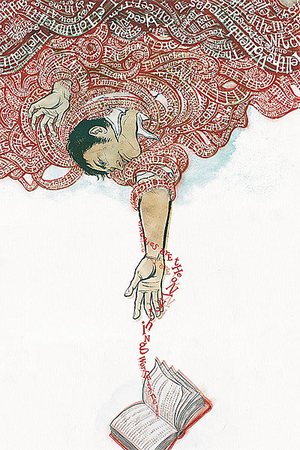 Yuko Shimizu's beautiful cover art for The Unwritten #1
Writer Mike Carey (Hellblazer) and artist Peter Gross (Fables) produced 75 issues and a one-shot of the Eisner Award-nominated DC Comics/Vertigo series, Lucifer. Carey and Gross reunite for the new Vertigo series, The Unwritten (which will feature covers by Yuko Shimizu). Carey, who is also a novelist, wrote the brilliant and imaginative Vertigo comic book series, Crossing Midnight. He has answered some questions about The Unwritten for this Bin Q&A:
CBB: What is the basic premise of "The Unwritten" and also what is the dilemma or struggle of the lead, Tommy Taylor?
CAREY: The Unwritten is the story of Tom Taylor, a guy who is one of the most famous and instantly recognizable people of our time. But his fame doesn't come from anything he's done himself, it comes from the fact that his father wrote him into a series of novels: he's famous as a fictional character. The Tommy Taylor novels, which deal with the adventures of a loveable boy wizard and his magic-using friends, are a publishing phenomenon, outselling all other books and spawning a vast plethora of spin-off products. Tom has had to grow up with this burden on his back - that everybody knows him, but only as the inspiration for Tommy. He's tried to live his own life and be his own man, but he's failed.
At the start of the story he's in his mid-twenties, his father has been missing for many years, and he's making a fairly humiliating living going around the con circuit, signing his father's books, doing photo ops whenever a new movie or game is launched in the franchise, and so on. Then one day, he's at a con and a young woman stands up and confronts him. She says that all the documentation about Tom's life, right up until the time when Wilson Taylor disappeared, appears to be forged or faked in some way. She wants to know who he really is.
Tom is thunderstruck, because all this is news to him. The first explanation that hits the world's media is that he's a Romanian orphan whom Wilson effectively brought in as a viral marketing tool for the novels. But then a more radical theory pops up: maybe Tom is Tommy, the fictional character made flesh. So out of nowhere, Tom finds this cult springing up around him - a messiah cult, claiming that he's the greatest wizard who ever lived, come from the books into the real world in order to save us from ourselves. It's a bitter pill for him to swallow, but it's only the start of his troubles.
CBB: Does he have a central adversary? Is it something called "The Unwritten," and why is it an obstacle or against him?
CAREY: Yeah, there is indeed an adversary - a powerful cabal that's manipulating events behind the scenes. They don't refer to themselves, or think of themselves, as the Unwritten, and we never directly apply that name to them, but there's a reason why it applies and we hint at that reason at in the first issue. This group seems to take an interest in stories, and sometimes they intervene to make sure that certain stories get told, or to prevent them from being told.
And the group has an assassin, an executive arm, who is a man named Pullman. He comes after Tom in the first arc, with a very specific and scary brief.
Tommy Taylor also has an adversary, the evil vampire Count Ambrosio, and in a bizarre way he becomes Tom's nemesis too. But it's a while before we realize exactly what the Count is and what part he plays in Tom's story. In the first issue, we meet a rather strange and deluded guy who thinks he IS the fictional Count Ambrosio - and then we see something hideous and unsettling happen to him in the course of the issue...
CBB: Why should readers care about your lead, Tommy Taylor? Is it because we will recognize the suffering former child star and sympathize with him? Or is it perhaps because of the way he will react to his experiences? Or a mixture of both?
CAREY: I think we write Tom as a sort of modern Everyman. He's someone who has all the burdens of fame without any of the benefits. He can't touch the money from his father's estate, so he's pretty strapped for cash most of the time, and he can't go anywhere or do anything without the media following him and making a story out of it. Whether he's Tommy or not, his life has become a story because of this constant media intrusion. And you look at people like, say, the parents of Madeleine McCann, or Jade Goody, or Caroline Cartwright, who was arrested for having noisy sex, and you realize that this is a feature of our times: you can have the fourth wall removed at any time and find your life has become a kind of reality TV show, with the world looking in at you 24/7.
CBB: What I've read about "The Unwritten," it seems like a labyrinth - like an Alan Moore comic book, a David Lynch movie, or "Lost." Is it complicated and meta, and will readers have to be familiar with a lot of other literature, fiction, mythologies, etc. to enjoy it?
CAREY: You definitely don't need to have read all this other stuff to enjoy The Unwritten. It helps if you know who the Frankenstein monster is, who Moby Dick is, stuff like that, but we're not making a ton of complex inter-textual references: we're just telling a story in which other stories come to figure - because ultimately this is a story about stories, and about why they're important in our lives.
I'm sort of mistrustful of self-labeled meta-fictions. The way I see it, all stories sort of draw on and play variations on other, pre-existing stories all the time. Grant Morrison's Doom Patrol is a sublime superhero book, but it's also in lots of ways a jazz riff on all the other superhero books you've ever read. Blade Runner is a fantastic movie, but it's also a sci-fi reverie on the tropes of noir detective fiction. Ironically, if something goes out of its way to be meta-textual, it can often end up being ham-fisted and obvious - and less than satisfactory as a narrative. I think what we're doing with The Unwritten is more straightforward than that: we do look at the interface between fact and fiction, but we look at it with a view to showing how much of our life is lived in fictions, in the stories that we love. We're not blurring the line; we're exploring how it works.
CBB: How important is Peter Gross to the series, if you can measure that?
CAREY: Exactly as important as I am. We're co-creators and co-plotters in the fullest sense of the word. Peter isn't just a great graphic artist, he's also a great storyteller, and this is his story, his inspiration, every bit as much as it is mine. That was already happening in Lucifer in an informal way: some of the most memorable scenes and issues in that series sprang from ideas that Peter had, and the book couldn't have existed in the form it did without him. Here, we're just doing the same kind of co-operative storytelling in a more global and pervasive way - and, I have to say, having the time of our lives doing it.
According to DC Comics, The Unwritten's opening story arc will run for four issues. The Unwritten #1 is offered at the promotional price of $1, and is a 40-page issue.
Last Updated: August 31, 2023 - 08:12