Halloween ComicFest 2014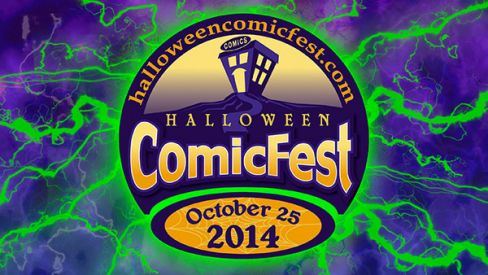 By The Editor
October 24, 2014 - 00:00
Get Free Comic Books During Halloween ComicFest
Comic and pop-culture fans are encouraged to visit their local comic shop on Saturday, October 25th for free comics and participate in Halloween activities, shopping and fun!
(BALTIMORE, MD) — (October 15, 2014) — In 10 days, participating comic shops across the US, Canada and internationally will hand out free comics to anyone who comes into their shop to celebrate the second biggest free comic book event of the year- Halloween ComicFest! On Saturday, October 25th, anyone who goes into a participating comic shop can choose from 19 free comics and participate in fun activities comic shops host for their customers to enjoy while discovering new types of comics and the treasures found in store.
During Halloween ComicFest (HCF), adults and kids can get free Halloween and horror themed comics and mini-comics published specifically for the occasion. There are 19 titles available to choose from that are great for kids and adults, with twelve full-sized comics and seven mini-comics making it easy for everyone to find a story they will enjoy. Titles for this year include: DC's Scooby Doo Team-Up with Batman #1 , Marvel's Secret Wars #1, Afterlife with Archie #1, My Little Pony, Plants vs. Zombies, Angry Birds, and other haunting and fun tales.
This year anyone can celebrate Halloween ComicFest in their homes with the HCF Mini-Comic packs, which are available to purchase solely from comic shops. Each pack contains 20 HCF mini-comics that are great to pass out on Halloween to trick-or-treaters, providing a healthy alternative to candy and great stories that keep kids reading and visiting comic shops for more.
Currently taking place and running until November 9th is "The Greatest Halloween Costume Contest Ever" presented by Halloween ComicFest. The contest takes place on the Halloween ComicFest website, where anyone can enter one of five categories just by uploading a picture of themselves in costume holding one of the free Halloween ComicFest 2014 comics and submitting it into the appropriate category. Prizes include $500 and $100 shopping sprees to the winner's comic shop of choice in addition to category prizes for the participants who receive the most votes for their costume from website visitors. Voting will take place November 2-9 and it is crucial to remember that only photos with a Halloween ComicFest 2014 comic in the picture will be accepted.
"This year we want communities to participate in Halloween ComicFest to not only discover new types of comics from the great selection offered, but to see their local comic shop as a fun Halloween destination, a great place to meet like-minded people, and to discover the cool comic and pop-culture items available," said Halloween ComicFest spokesperson Deborah Moreland. "What makes this year unique for Halloween ComicFest are the Halloween ComicFest Mini-Packs that are available for fans to purchase and use not only as an alternative to candy on Halloween, but as an opportunity to pass on the fun of discovering and reading comics to the next generation of readers."
For more information about Halloween ComicFest, more details about the free comics, more information about the costume contest, and to find a participating comic shop, go to www.halloweencomicfest.com.
####
ABOUT HALLOWEEN COMIC FEST—Halloween ComicFest is an annual event where participating comic book specialty shops across North America and beyond celebrate the Halloween season by giving away free comic books to anyone who comes into their shops. The event is held the Saturday before Halloween and is the perfect opportunity to introduce friends and family to the many reasons why comic shops are a great destination for Halloween themed comic books, products and merchandise. From zombies, vampires, monsters and aliens to costumes and more, comic shops have it all when it comes to Halloween fun!
Last Updated: February 5, 2023 - 09:06