VIZ Media Announces Halloween Comicfest 2017 Pokemon Manga Sampler
By The Editor
October 30, 2017 - 18:42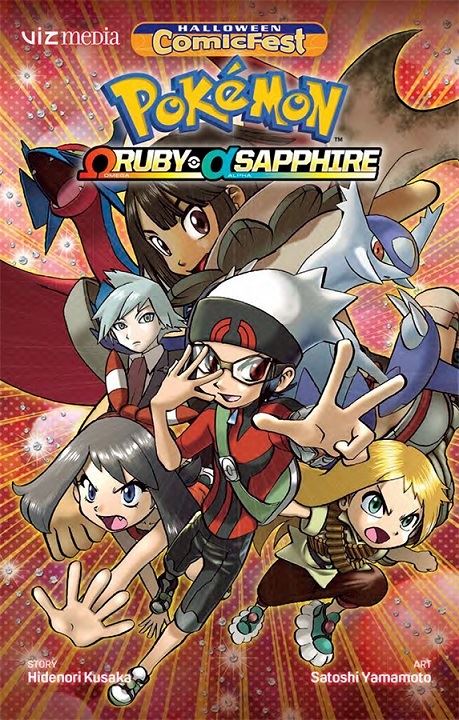 Halloween Comics Fest 2017: Pokemon Omega Ruby - Alpha Sapphire cover image
VIZ MEDIA SUPPORTS HALLOWEEN COMICFEST 2017 WITH A SPECIAL POKÉMON OMEGA RUBY • ALPHA SAPPHIRE MANGA SAMPLER
Visit Your Local Comics Retailer On October 28th For A FREE Sampler Of All-Ages POKÉMON Manga
VIZ Media celebrates Halloween ComicFest 2017 with some all-ages fun by offering a FREE manga sampler featuring a sneak preview of POKÉMON OMEGA RUBY • ALPHA SAPPHIRE.
Held annually, Halloween ComicFest will be celebrated this year on Saturday, October 28th at scores of comic shops and retailers nationwide. On this day, participating shops offer fans and visitors FREE Halloween ComicFest samplers filled with previews of exciting upcoming titles. For additional information and a list of participating retailers, please visit: HalloweenComicFest.com.
Ruby, Sapphire and Emerald face a new crisis of epic proportions in the latest POKÉMON manga adventure: a giant meteor hurtling toward the planet! Years have passed, and now Sapphire and Emerald are training in the new techniques of Mega Evolution. And they'll need Ruby's help! Searching for a way to change the meteor's course, Ruby journeys to the Sky Pillar to earn the trust of Zinnia, the Lorekeeper of the mysterious Draconid tribe. Does she have the key to saving the world? And what does all this have to do with Legendary Pokémon Rayquaza?
POKÉMON is one of the most successful international entertainment franchises of all time. More than 290 million POKÉMON video games and over 23.6 billion Pokémon Trading Cards have been sold in more than 74 countries in addition to substantial publishing and merchandise sales. VIZ Media is the official North American distributor for a wide variety of POKÉMON home media releases including animated series and films and also publishes a variety of POKÉMON manga graphic novel series including Pokémon Adventures, Pokémon Adventures: FireRed & LeafGreen, Pokémon Adventures: Emerald, Pokémon Adventures: Diamond AND Pearl/PLATINUM, Pokémon Adventures: HeartGold & SoulSilver, Pokémon Adventures: Black & White, POKÉMON X•Y, and POKÉMON OMEGA RUBY • ALPHA SAPPHIRE.
For additional information on POKÉMON titles distributed and published by VIZ Media, please visit VIZ.com.
Last Updated: February 5, 2023 - 09:06