The Top Ten Trending Articles at ComicBookBin for August 2015
By Hervé St-Louis
September 1, 2015 - 06:53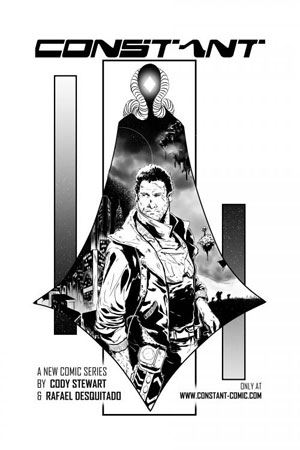 Constant
This month, we have more of the same and some new exciting entries.
12-Constant #1
Yes, I know, the article says Top Ten, not top 14. Yet, Constant is a welcome addition to ComicBookBin. Cody Stewart and Rafel Desquitado are working on a cool new and original science fiction Web comic which they now post here at ComicBookBin as well as at their home Web site. I had always planned to invite new Web comics from non-ComicBookBin staff. Yet, when Leroy Douresseau's Grumble had to pause a bit, the site felt empty with just Johnny Bullet being updated constantly. I'm working hard on getting other Web comics spotlighted at ComicBookBin so maybe next month, we'll have some cool new top ten entries!
11-Johnny Bullet #35
Last month, we saw that Johnny Bullet pages were doing well overall. The trend continues. It makes me happy of course. I have to note that although none of the French-language pages are trending at the same level, that they are very close in the lead. In strip #35, Johnny Bullet continues to fight off his treacherous drag racing opponent. I think that people like this storyline...
10-Johnny Bullet #37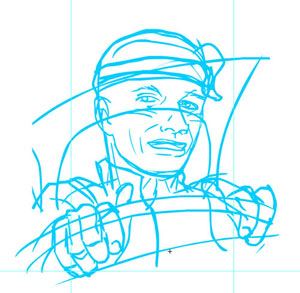 Johnny Bullet
In Johnny Bullet #37, I introduced Brook's Mustang which forced Johnny Bullet to veer off the road. I had a lot of fun drawing this page (and the entire sequence). What's amazing here is how this page overtook page #36 and #35 which had been on the site longer. I create Johnny Bullet, so I'm always very happy to see it trending at ComicBookBin.
9- Web Comics
Pages like Web Comics are always weird for me. They are what our content manager calls category pages that lists all the articles within that section. Back in 2012, I decided to slowly make these pages more interesting by adding short editorials and images to them so that they would be more than online folders. In this page, I discuss some of the semiotics and politics surrounding Web comics, as well as introduce the ComicBookBin comics featured.
8-Are Yaoi Manga The Future of Gay Comics?
Now, on to more familiar ground. As I mentioned last month, this article has been trending at ComicBookin since I wrote it way back in 2008. I've written better written articles about this topic since but it seems that people only care for this one page. By now, it feels out of context. I've updated the Yaoi home page with a much better article but I bet people will still seek this one next month and the one after and so on. As I wrote in another article, put the word yaoi and BL to anything and it will be popular.
7-Johnny Bullet
I've stopped updating Johnny Bullet in many other Web comics portals to really concentrate it here at the Bin as its natural home page. I glad to see that more people are in fact reading Johnny Bullet here. I'm not sure if my decision to slow the updates on other sites has anything to do with the surge here. We'll see next month.
6-This Damned Band #1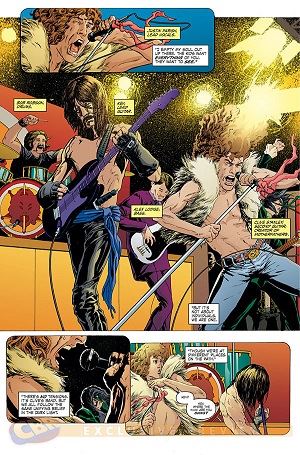 This Damned Band #1
Andy Frisk wrote a cool review of this comic and his enthusiasm has been so great, that this article has been trending since he posted it. Andy is into music and bands, so he was the perfect reviewer for this comic. Check out what he has to say.

5-Fan Films
Fan film is an old regular whether there has been no updates in this section of the site last month! It really needs a new editor who will want to build on its popularity and take it to new heights. The demand is here. Fan films is coming a bit down from last month, but I know it will be back next month.
4-Constant #2
Should we blame Fan Films' relative decline to Constant #2? For what it's worth, I'd rather see Constant here than Fan Films or the future of gay comics is yaoi. Constant, as you might have read above is the new comic hosted at the Bin. Given time, it will do quite well, but I think that just like Johnny Bullet, many pages will trend as opposed to one specific. This one surprised me because it was an instant hit the very day it was posted. I couldn't find links from Reddit or anything similar. It was all local interest from people already at ComicBookBin. Now that's quite a feat!

3-The ten most important comic books of the 1990s
This article is exactly where it was last month. Nothing to say.
2-Comics
Nothing changed with the popularity of this page.
1-Why Daredevil Is Not on Blu-Ray?
This article continues to dominate results at ComicBookBin. Fans are looking forward to getting this series on a physical medium. I'm not sure if Web streaming is the new black. But I'm not an executive at Marvel or HBO, so what do I know?
Last Updated: August 31, 2023 - 08:12