Comics / Manga / Yaoi Manga
Are Yaoi Manga The Future of Gay Comics?
By Hervé St-Louis
July 11, 2008 - 23:40
A few years ago, one could not go a message boards without reading about gay comic book readers asking for comic book publishers to provide them with more representation in their comic books. The process was quite similar to the process of affirmation of blacks and women in comic books and other sectors of life. A few years back, specialized comic book publishers importing and translating material from Japanese mangas seem to have come to the rescue of gay comic book readers. But are yaoi mangas really what gay North American comic book readers have been asking for?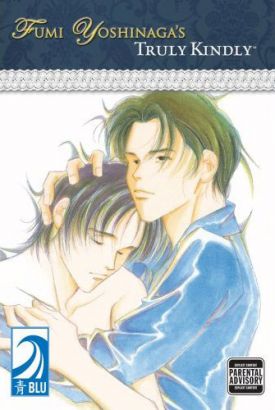 Two things were demanded from the message boards I used to follow. One was more representation of gay characters in comic books. For example, there were lots of lists and petitions about revealing that some characters were homosexuals. Often, these would become speculations and of course run into trouble with other readers who did not want to see specific comic book characters suddenly ousted. For example, on the message boards of comic book publisher, DC Comics, there was a lot of discussions about what character were gay or not. In the
Justice Society of America
, for example, the names of Sand and the
Golden Age Doctor Mid-nite
were often named by posters as characters with gay features that gay comic book readers recognized. One must remember that such speculations were limited to the readers and forum participants and often not something comic book publishers and their staff engaged in publicly.
In response to those demands, comic book publishers such as DC Comics and Marvel Comics have revealed that
many of their characters were gays
. Most revelations did not come from established characters but new ones introduced or new versions of characters created for alternative universes. For example, the revised
Batwoman
has been revealed as a lesbian character. Similarly, the
Ultimate version of the X-Men Colossus
, created for the Ultimate imprint of comic book publisher Marvel Comics, has been revealed as a gay.
This process was similar to the way more women and ethnic minorities have been introduced previously. For example, often, newer versions of super heroes often tend to be women or members of visual and ethnic minorities such as blacks, Latinos and Asians. For the Ultimate Universe, both
Nick Fury
and the Avengers'
Wasp
appeared in the Ultimate imprint as a black man and an Asian woman. The fourth
Blue Beetle
character is now a Latino kid. The new
Question
is a woman and a lesbian instead of a heterosexual man.
But the second thing that gay comic book readers seem to have been asking is more portrayal of homosexual lives in the comic books they read. While there has always been comic books that have portrayed the various lives and sexual orientations of characters, like
Stranger in Paradise
, and specifically gay material, like
Stuck Rubber Baby
, the average comic book, even when portraying gays, has stayed far away from showing details of gay lives beyond brief kisses and hugs. Just by doing a random search on Google, one can see that there are some gay comic books which are clearly of pornographic nature, that seem to find an audience but are not publicized in the same circuits as most North American comic books. Is their audience the same that has asked for more portrayal of gays in their comic books or just people looking for pornography?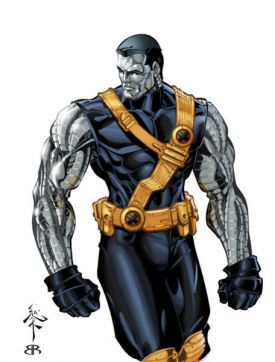 Ultimate Colossus
The answer is simple. People looking for pornography are looking for pornography. But people who read comic books are more interested about comic books that go beyond pornography. They want the experience and perhaps some brief tantalizing moments, but if they seek, more, they will not expect to find it in their regular comic books.
While this makes sense from a logical perspective,
yaoi mangas
throw that thinking off. First, yaois are branded as comic books about men in romantic situations read primarily by a female audience, at least in Japan. The extent to which women read yaois outside Japan, compared to gays, is unknown to me.
I've never read a yaoi comic book, but it seems that they are equally Harlequin-like romance and soft porn from the reviews Comic Book Bin editor, Leroy Douresseau writes. If this is true, they do incorporate the life experience aspects of gays that so many readers seek with a good dose of sex. Could this be a winning formula that best satisfies the needs of many gay readers?
But if yaois fulfil the needs of gay comic book readers in North America, does that mean that North American comic books, whether written for a gay audience or not are failing to reach this target market? The only answer to this question of course, is to look at precedent from other groups that have demanded comic books closer to their realities, like women and various ethnic groups, such as blacks. For one thing, there clearly is not a body of work in North American comic books written specifically for women. For ethnic groups, such as Arabs, blacks and Latinos, there have been more specific efforts to publish material of interest to these markets with mixed successes.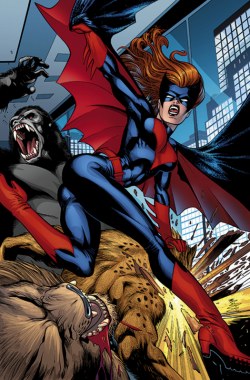 Batwoman
Within established comic book series, there has also been more places given to female and ethnic characters, but just like homosexuals, there has not been specific and detailed exploration of what it means to be a Latino or a woman in most works. Still, one could not say that the portrayal of women and blacks and other groups have been lacking or poor. Specific elements related to characters' origins are integrated in the main narrative more as a back story than the ground for a detailed exploration on the condition of the subject.
What this suggests, is that with time, the back story of gay characters will play more prominent roles in larger stories, just like it has happened with women and ethnic characters. But for readers who desire more outright gay storytelling, yaois and gay pornographic material will probably fulfil specific needs not addressed in other comic books published for a more heterogeneous readership.
Last Updated: February 5, 2023 - 09:06