New Top Gun Game Nintendo DS
By The Editor
July 1, 2005 - 09:51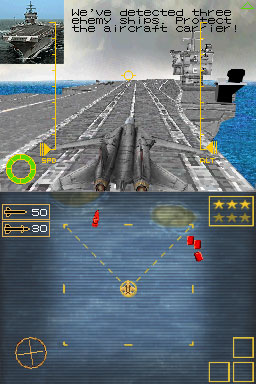 Screen Shots from the Game
Video Game publisher Mastiff announced they will publish Paramount Pictures Top Gun for Nintendo's highly successful new handheld video game system, the Nintendo DS. An action-packed tribute to the blockbuster movie hit of 1986, Top Gun takes advantage of the unique Nintendo DS interface for high octane mastery of the sky.
"Top Gun's intense action translates perfectly into a videogame," said Bill Swartz, Head Woof at Mastiff. "Top Gun exploits the capabilities of the Nintendo DS to duplicate that experience in a handheld environment."
A hip, heart-pounding combination of action, music and incredible aerial photography helped make Top Gun the blockbuster movie hit of 1986. Top Gun for Nintendo DS takes a look at the danger and excitement that awaits every pilot at the Navy's prestigious fighter weapons school. Top Gun players enter as rookie pilots, selected along with a handful of other pilots for elite training at the US Navy's Fighter Weapons School. To become the best fighter pilot in the world players must to go head to head with the best of enemy fighter pilots.
Top Gun puts the player in the cockpit of a heavily armed jetfighter plane. The game includes 10 single player missions such as high altitude dogfights, escort missions, and protecting airspace, over a variety of terrain with dramatic weather and visual effects. Top Gun also features head to head play for two, three or four players. High quality sound effects take advantage of the Nintendo DS's ability to deliver virtual surround-sound.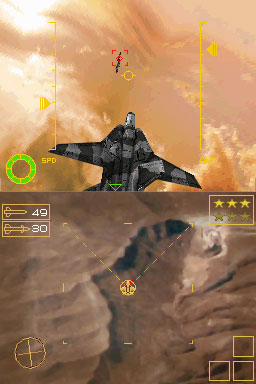 Screen Shots from the Game
Additional features of Top Gun game include:
-- Top Gun Competition Campaign includes elite training and realistic combat
-- Choose pilots named for characters in the movie
-- Choose different fighter planes, each with different handling characteristics
-- 10 diverse missions across arctic, ocean, forest and desert zones
-- Weapons include machine gun, fire-and-forget missiles, homing missiles
-- Multiplayer dogfight for 2-4 players
-- Stunning visual effects include explosions, water splashes, smoke, and gun/rocket trails
-- Challenging weather effects include sun, rain, animated clouds, and snow
-- Pulse-pounding music reminiscent of the movie soundtrack
Last Updated: September 6, 2021 - 08:15