Comics / Comic Reviews / More Comics
Review: This Damned Band #1

By Andy Frisk
August 9, 2015 - 11:47
Paul Cornell (Saucer Country) and Tony Parker (Do Androids Dream of Electric Sheep?) team up to create one of the best first issues of a rock n' roll themed comic book ever.


What's Happening
: Justin Parish, Kev, Bob Robson, Alex Lodge, and Clive Stanley are MOTHERFATHER, and they are the "it" band of the 1970s. A mishmash of the visual look and style of The Who, Black Sabbath, and Led Zepplin, MOTHERFATHER are nevertheless their own band. They are here to rock and roll while enjoying the the proverbial "sex and drugs" at the same time. Oh, and worship the devil...by accident.
The Writing
: Paul Cornell brings his witty and intelligent writing to full bear here on
This Damned Band
. Cornell often utilizes themes of identity vs reality and metaphor here again to great narrative effect (as was the case in his unjustly and too-early ended masterpiece
Saucer Country
) . Smartly addressing the usual rock and roll lifestyle tropes by making fun of them and paying homage to them at the same time, he mixes in some smart commentary laced with his usual engaging dalliance with supernatural/sci-fi themes that merge into wonderful metaphors on how what one pretends to be often becomes what one is. The phony devil-worshiping facade of MOTHERFATHER suddenly and frighteningly (as well as hilariously) becomes the unwitting, and unnerving, reality of our rock n' roll heroes. The real strength of this first issue though is the multitude of easter eggs that Cornell layers the opening chapter of the history of MOTHERFATHER with. It's very obvious that Cornell is a huge fan of rock music and knows his rock history. His short, but hilarious, overview of each of MOTHERFATHER's fictional seven albums at the end of issue #1 is packed with snippets of real life rock history gleaned and reshaped to fit into the story of MOTHERFATHER. It's brilliant stuff, as is usual for Mr. Cornell's works.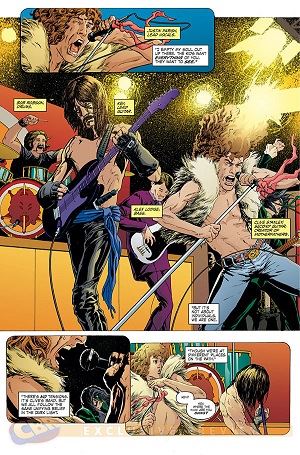 The Artwork
: Tony Parker's art is the perfect fit for Cornell's story of a band that appears to be just going through the motions of comical devil worship, but suddenly find themselves face to face with the real deal. He captures the look of each band member perfectly and brings to life the oft cliched rock n' roll stage poses with smart (and beautiful) self referential humor and reality. We've all seen artistic renderings of the likes of Robert Plant to
Eddie Vedder
in sequential art, but rarely have they been as both ironic and iconic as they are (in parody) here in the form of Parker's MOTHERFATHER. When things get psychedelic for MOTHERFATHER on stage, Parker shifts his style to create a unique, engrossing, and completely trippy sequential art sequence. No artistically rendered rock band, real or imagined, ever looked as good on stage as Parker's does here.
The Verdict
: Paul Cornell and Tony Parker's
This Damned Band
is a must read for fans of great comic books as well as great music. Packed with self referencing easter eggs, humor and history that prove that they are not only great writers and artists, but great rock music fans,
This Damned Band
is looking to be one of the best rock n' roll comics ever.
Rating: 9.5 /10
Last Updated: February 5, 2023 - 09:06