VIZ Media Has "Urasawa's Monster" Anime on iTunes
By The Editor
October 15, 2009 - 13:21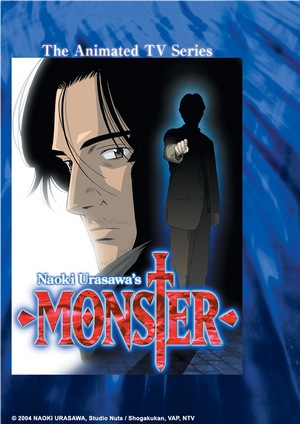 Monster anime key image
VIZ MEDIA ANNOUNCES ANIMATED PSYCHOLOGICAL SUSPENSE DRAMA Naoki Urasawa's MONSTER NOW AVAILABLE ON iTUNES
VIZ Media, LLC (VIZ Media), one of the entertainment industry's most innovative and comprehensive publishing, animation and licensing companies, today announced the availability of Naoki Urasawa's MONSTER on the iTunes Store in the US and Canada (www.iTunes.com).
The first two episodes of Naoki Urasawa's MONSTER (English dubbed) are now available on iTunes, with each new episode becoming available on iTunes the day after it airs on SyFy in the US.
"We're excited to make Naoki Urasawa's MONSTER available on iTunes," says Ken Sasaki, Vice President of Strategy & Business Development, VIZ Media. "Tension and suspense reach new heights and nothing is as it seems as Dr. Tenma plays a dangerous game of cat and mouse with a vicious serial killer. Audiences won't want to miss even a single episode of this thrilling new series."
What would you do if a child you saved grew up to be a monster? An ice-cold killer is on the loose, and Dr. Kenzo Tenma is the only one who can stop him! Tenma, a brilliant neurosurgeon with a promising future, risks his career to save the life of a critically wounded young boy named Johan. When the boy, now a coldhearted and charismatic young man, reappears nine years later in the midst of a string of unusual serial murders, Tenma must go on the run from the police who suspect him to be the killer to find Johan and stop the monster he set loose upon the world. Conspiracies, serial murders, and secret government experiments set against the grim backdrop of the formerly communist Eastern Europe are masterfully woven together in this compelling work of suspense.
For more information on Naoki Urasawa's MONSTER anime series (rated 'M' for Mature) please visit Monster.viz.com.
Last Updated: September 6, 2021 - 08:15