Naoki Urasawa's Monster: Volume 16
By Leroy Douresseaux
August 15, 2008 - 11:23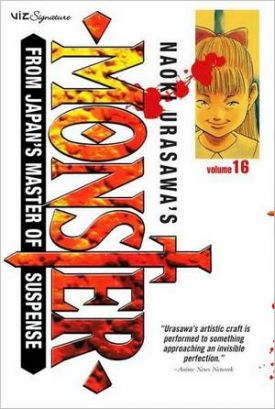 Thanks to barnesandnoble.com for the image.
Rated "T+" for "Older Teen"
In 1986, Japanese immigrant, Dr. Kenzo Tenma, a brain surgeon working in Düsseldorf, West Germany, decided to perform surgery on a young boy on the brink of death. Dr. Tenma chose to save the boy instead of operating on the Mayor of Düsseldorf, as Dr. Heinemann, the administrator at Eisler Memorial Hospital and Tenma's future father-in-law, demanded. Dr. Tenma's decision cost the Mayor his life and Tenma, his career. The young boy, Johan Liebert, became a monstrous human – a remorseless killer, and 11 years later, Dr. Tenma hunts him in hopes that he can stop the evil he allowed to live.
In Naoki Urasawa's Monster, Vol. 16, a retiring police inspector and a detective begin to connect the seemingly unrelated string of murders by a serial killer to Johan. The emotionally disturbed Eve Heinemann, Dr. Tenma's former fiancée, continues her relentless bloody quest for Johan. Meanwhile, Johan subtly tugs his sister Anna Liebert and Dr. Tenma towards a reunion.
THE LOWDOWN: In North American comics, Alan Moore and Dave Gibbons' Watchmen, Neil Gaiman's Sandman, and Art Spiegelman's Maus are the titles usually mentioned when fans want to declare what is "the great graphic novel of all time" or "the greatest comic book ever." Having read all three of those works, I can safely say that Naoki Urasawa's Monster – which is straight out of Japan – easily exceeds them, which is no easy feat. Now, many critics and reviewers have already regaled readers with descriptions of Monster's literary qualities, but…
Naoki Urasawa's Monster works so well because it's so f*****g entertaining. It's so engrossing and so enthralling; it's the summer potboiler John Grisham wish he could write. Monster is more than just a mystery/puzzle; it's a labyrinth. When one enters this maze, he embarks on a journey into the human heart, soul, and mind, a scenic tour of the human condition, and trippy trip through human behavior. The reader will come out to the other side, perhaps a refugee of the things in our past that shape us; but that reader will realize that this is a helluva read!
POSSIBLE AUDIENCE: Readers always on the prowl for exceptional material will find it in Naoki Urasawa's Monster.
A+
Last Updated: September 6, 2021 - 08:15