Naoki Urasawa's Monster: Volume 14
By Leroy Douresseaux
April 14, 2008 - 14:53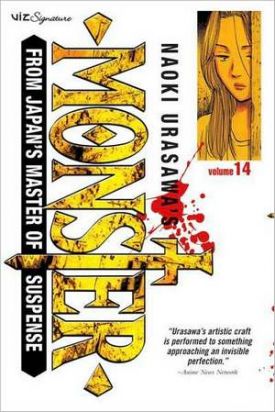 Thanks to barnesandnoble.com for the image.
In 1986: Japanese immigrant, Dr. Kenzo Tenma, a brain surgeon working in Düsseldorf, West Germany, decided to perform surgery on a young boy on the brink of death instead of on the Mayor of Düsseldorf, as the administration at Eisler Memorial Hospital preferred. Dr. Tenma's decision cost the Mayor his life and Tenma, his career. The young boy, Johan Liebert, became a monstrous human – a remorseless killer.
In Naoki Urasawa's Monster, Vol. 14, Tenma's long quest for justice and an end to Johan leads him to the mysterious "Red Rose Mansion" in the former Czechoslovakia. Nina Fortner, the former Anna Liebert, Johan's twin sister, also finds the road to eliminating her brother leading to the mansion. Indeed, many others, including Johan and Lipsky, the puppeteer who befriends Nina, will find that "Red Rose Mansion" is the home to their darkest memories.
THE LOWDOWN: I find myself rummaging around my brain the way the characters in Naoki Urasawa's Monster desperately search their complicated memories. However, whereas they are trying to find answers about their pasts, I'm trying to find a way to describe in detail how terrific Naoki Urasawa's masterpiece is. Monster is a suspense thriller as good as any thriller presented in other mediums: film, TV, books, etc. It's also a thought-provoking drama about people looking for a happy ending, regardless of whether they are protagonists or antagonists, and that makes a Monster a supremely human story.
POSSIBLE AUDIENCE: Readers of graphic novels, comics, or manga who demand the best of the medium – the art stuff like Maus, Sandman, and Love and Rockets for example – will find it here.
A+
Last Updated: September 6, 2021 - 08:15