Naoki Urasawa's Monster: Volume 18
By Leroy Douresseaux
December 10, 2008 - 12:36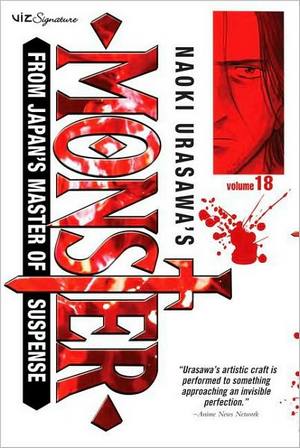 Monster 18 cover image courtesy of barnesandnoble.com
Rated "T+" for "Older Teen"
Dr. Kenzo Tenma, a Japanese immigrant, was working as a brain surgeon in Düsseldorf, West Germany when he saved the life of a young boy. That boy, Johan Liebert, became a monstrous human – a remorseless killer, and 11 years later, Dr. Tenma hunts him in hopes of stopping an intricately planned, but monstrously inhuman conspiracy.
In Naoki Urasawa's Monster, Vol. 18 (the series' final volume), Dr. Tenma arrives in the small southern German town of Ruhenheim. In this little mountain town, Johan's planned massacre has begun. While the journalist Wolfgang Grimmer and the relentless Inspector Lunge try to stem the tide of bloody violence that has come to Ruhenheim, Johan's twin sister, Anna (aka Nina Fortner) is ready for the final showdown with her brother. But will Tenma be ready to pull the trigger when the time comes?
THE LOWDOWN: As we finally reach the center of the massive web of conspiracies, conflicts, motivations, etc. that manga-ka Naoki Urasawa fashioned for his mega-fantastic manga, Monster, we may find that the truth at the heart of this mystery is as exasperating as what lies on the outer fringes of this mystery. The answers and revelations find themselves complicated by the "whys" of the participants, and who knows how often, if ever, any of these characters speaks the truth. Does Urasawa even know? Urasawa has created a self-sustaining narrative that exists as an eternal circle. Where does the end begin and where did it all begin? It's worth reading again and again. It's perfection.
POSSIBLE AUDIENCE: Deserves as much praise and fanboy worship as Moore & Gibbons' Watchmen, if not more, so go read Naoki Urasawa's Monster.
A+
Last Updated: September 6, 2021 - 08:15