Naoki Urasawa's Monster: Volume 17
By Leroy Douresseaux
October 17, 2008 - 11:17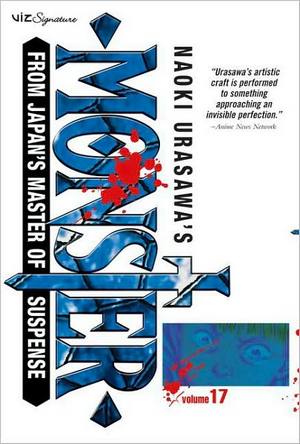 The above image is courtesy of barnesandnoble.com
Rated "T+" for "Older Teen"
Once upon a time, Dr. Kenzo Tenma, a Japanese immigrant working as a brain surgeon in Düsseldorf, West Germany, saved the life of a young boy. That boy, Johan Liebert, became a monstrous human – a remorseless killer, and 11 years later, Dr. Tenma hunts him in hopes of stopping an intricately planned, but monstrously inhuman conspiracy.
In Naoki Urasawa's Monster, Vol. 17, the focus shifts to a small southern German town surrounded by mountains. In this little mountain town, Ruhenheim, the biggest news is usually the whereabouts of a missing dog, but this bucolic setting could be the place where Johan is planning a massacre.
THE LOWDOWN: If there is ever a way to read Naoki Urasawa's Monster in one edition, readers will attack it and read it in one sitting, staying up all night and reading through the day, the way so many readers did with the last Harry Potter novel. Monster is spellbinding. Yes, that's right! It casts a spell that binds the reader to its complex narrative and labyrinth of competing character motivations. As the ending of this series approaches, creator Naoki Urasawa justifies the use of the word "perfection" to describe his work.
POSSIBLE AUDIENCE: As a truly great and exceptional manga work, Monster earns the attention of any comic book fan.
A+
Last Updated: September 6, 2021 - 08:15