Naoki Urasawa's Monster: Volume 13
By Leroy Douresseaux
February 18, 2008 - 18:42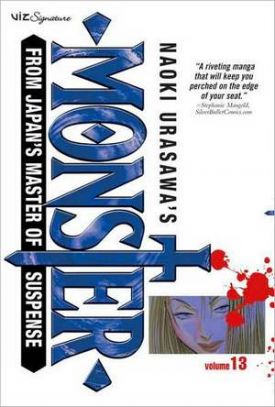 Thanks to barnesandnoble.com for the image.
No good deed goes unpunished.
Düsseldorf, West Germany in 1986: Japanese immigrant, Dr. Kenzo Tenma, a brain surgeon, decides to perform surgery on a young boy on the brink of death instead of on the Mayor of Düsseldorf, as the administration at Eisler Memorial Hospital preferred. It cost Dr. Tenma his career, and the young boy, one Johan Liebert, became a monstrous human – a remorseless killer.
Naoki Urasawa's Monster, Vol. 13: It's the late 90's, and Dr. Tenma is in trouble. Blamed for some of the murders Johan committed, Dr. Tenma was arrested in Prague while searching for his former patient. Deported to Düsseldorf, he will stand trial for murder. Resigned to his fate, Tenma barely cooperates with his lawyers, until he learns that his former fiancée is a target for murder. Now, Tenma is desperate to be free again and save a life – even if it means that escape will make him a real criminal.
THE LOWDOWN: One of the very best comics being published in the U.S. is actually a reprint project of a Japanese series. Naoki Urasawa's Monster is a top notch suspense thriller and a psychological thriller of the first order. In fact, this is one of the few comics that actually deserves the label "psychological thriller" because manga-ka Naoki Urasawa opens a window into the souls of both his main characters and supporting players. Urasawa offers readers the opportunity to examine what goes on in the minds of these characters, and it's the kind or rich (but dark) journey that only daring readers will take.
Monster is simply amazing. Urasawa knows his characters so well and his narrative so masterfully constructed that Monster flows with the artfulness and precision of a symphony.
POSSIBLE AUDIENCE: Readers who want something more than the often-bland sameness offered in mainstream comics (like delivering a fix to a sad addict) will find more in Monster.
A+
Last Updated: September 6, 2021 - 08:15