Seraph of the End: Vampire Reign Volume 7 manga review
By Leroy Douresseaux
December 23, 2015 - 14:37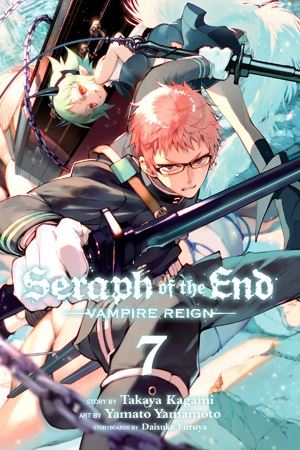 Seraph of the End: Vampire Reign Volume 7 cover image
Rated "T+" for "Older Teen"
The trumpets of the apocalypse proclaimed the fall of humanity, in the year 2012.
Vampires
rose from the shadows and began their reign over the Earth. A mysterious virus killed almost all adult humans, sparing those younger than 13 years of age. They were subsequently enslaved as livestock for vampires. In 2016, the orphan
Yuichiro "Yu" Hyakuya
stepped forward, seeking revenge; his goal was to kill each and every vampire.
As
Seraph of the End: Vampire Reign

, Vol. 7
(Chapters 24 to 27) opens, the
Japanese Imperial Demon Army
launches its mission to exterminate vampires in
Nagoya
. That city is apparently a staging ground for a vampire attack on the human stronghold of Tokyo. The
Moon Demon Company
moves into the city; its mission is to kill 8 of the 10 vampire nobles in Nagoya.
While they wait at the staging area, however,
Lt. Col. Guren Ichinose
decides to test Shinoa Hiragi's squad, of which Yu is part. Meanwhile, Yu's beloved brother-turned-vampire,
Mikaela "Mika" Hyakuya
, denies his craving for human blood, but he wants it so badly...
THE LOWDOWN:
The
Seraph of the End: Vampire Reign
manga remains a thoroughly enjoyable read. I have said that before. Every time I finish one volume, I want to start the next. That I have also said. Both statements remain true.
Seraph of the End: Vampire Reign Volume 7
focuses on a plot line that has been simmering for several chapters. Quite frankly, I am ready for a vampire-human throw-down in Nagoya. This series offers a nice balance of character soap opera and battle manga action. However, I think that its best feature is that it is a unique take on vampires, and the creators have fun slowly revealing its internal mythology, which makes it a fun read.
POSSIBLE AUDIENCE:
Fans of vampire manga will want to drink deeply of the Shonen Jump Advanced series,
Seraph of the End: Vampire Reign
.
Rating: A- /10
Last Updated: January 24, 2022 - 11:00