Seraph of the End: Vampire Reign Volume 6 manga review
By Leroy Douresseaux
September 9, 2015 - 20:45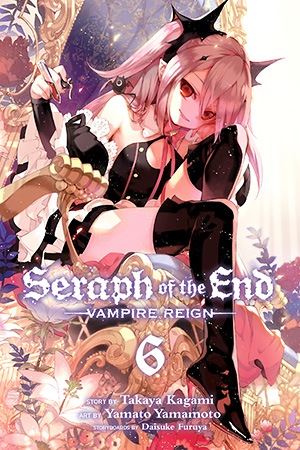 Seraph of the End Volume 6 cover image
Rated "T+" for "Older Teen"

It was the year 2012. The trumpets of the apocalypse proclaimed the fall of humanity, and vampires rose from the shadows and began their reign over the Earth. A mysterious virus killed almost all adult humans, sparing those younger than 13 years of age. They were subsequently enslaved as livestock – for vampires. In 2016, the orphan
Yuichiro "Yu" Hyakuya
stepped forward, seeking revenge; his goal was to kill each and every vampire.
As
Seraph of the End: Vampire Reign

, Vol. 6
(Chapters 20 to 23) opens, Yu remains in a coma-like state as he attempts to learn how to draw more power from his
Cursed Gear
, the sword
Asuramaru
. Next up is Yu's friend and rival, 15-year-old
Shiho Kimizuki
. To draw more power from his gear,
Kiseki-o
, however, Kimizuki will have to confront a period from four years earlier when he had to make a terrible decision about a loved one.
Meanwhile, the vampires plot war against humans in Japan, but are also troubled by the humans' experimentation with demons. After examining the Shinjuku attack, one vampire believes that it is time to confront Yu's beloved brother-turned-vampire,
Mikaela "Mika" Hyakuya
, with some hard truths.
THE LOWDOWN:
The
Seraph of the End: Vampire Reign
manga remains a thoroughly enjoyable read. Why do I think that? Every time I finish one volume, I want to start the next. From cliffhangers to shocking end of chapter revelations, creators
Yamato Yamamoto
(artist) and
Takaya Kagami
(story) know how to keep their readers wanting more.
Seraph of the End: Vampire Reign Volume 6
delves deeper into the secrets of the Japanese Imperial Demon Army and the intrigue within the various human factions. Readers will also be surprised to discover a crimp in the good guy/bad guy, human vs. vampire paradigm. There are even a few hints about the status of humans elsewhere in the world. Yes,
Seraph of the End
is always feeding its readers a new tidbits so that they never end their love affair with this series.
POSSIBLE AUDIENCE:
Fans of vampire manga will want to drink deeply of the Shonen Jump Advanced series,
Seraph of the End: Vampire Reign
.
Rating: A /10
Last Updated: January 24, 2022 - 11:00