Seraph of the End: Volume 12 manga review
By Leroy Douresseaux
July 1, 2017 - 14:04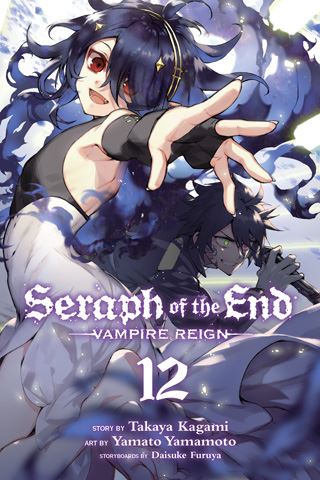 Seraph of the End Volume 12 cover image
Rated "T+" for "Older Teen"
It was the trumpets of the apocalypse that proclaimed the fall of humanity in the year 2012. Vampires rose from the shadows and began their reign over the Earth. A mysterious virus killed almost all adult humans, sparing those younger than 13 years of age. These children were subsequently enslaved as livestock for vampires. In 2016, the orphan
Yuichiro "Yu" Hyakuya
stepped forward, seeking revenge; his goal was and is to kill each and every vampire.
Seraph of the End: Vampire Reign

, Vol. 12
(Chapters 44 to 47) opens three months after the invasion in Nagoya. Yuichiro,
Mikaela "Mika" Hyakuya
(Yu's foster brother turned vampire) and what remains of the
Shinoa Squad
(
Shinoa Hiragi
,
Yoichi Saotome
,
Mitsuba Sango
,
Shiho Kimizuki
, and
Makoto Narumi
) are on the run from both humans and vampires. Meanwhile,
Lord Ferid Bathory
, the powerful vampire that killed Yu and Mika's family and turned Mika into a vampire, is pursuing Shinao Squad. Ferid and his vampire lackey,
Crowley Eusford
, want to partner up with Yu and company. He even wants to offer secrets about the Seraph of the End.
Meanwhile, back in
Shinjuku
,
Kureto Hiragi
tries to pull
Guren Ichinose
into his plans. Those plans possibly involve treason.
THE LOWDOWN:
The
Seraph of the End: Vampire Reign
manga is one of my favorite vampire comics. I had not read it in a year, which meant missing two volumes, but my VIZ Media press rep sent me the most recent volume.
Seraph of the End: Vampire Reign Volume 12
starts a new direction for the series or, at least, seems to redirect the narrative. I like the streamlined approach of focusing on a small band of heroes around series star Yuichiro. Pitting him against or teaming him up with Ferid Bathory will allow the reader to go deeper into the mystery of this series. Creators Takay Kagami and Yamato Yamamoto have found a way to strengthen this narrative deep into its run.
I READS YOU RECOMMENDS:
Fans of vampire manga will want to try of the Shonen Jump Advanced series,
Seraph of the End: Vampire Reign
.
A
9 out of 10
Rating: 9 /10
Last Updated: January 24, 2022 - 11:00