Seraph of the End: Vampire Reign Volume 8 manga review
By Leroy Douresseaux
March 4, 2016 - 21:16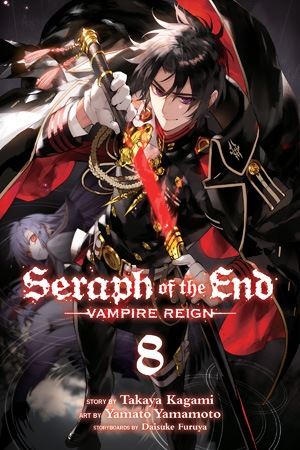 Seraph of the End: Volume 8 cover image
Rated "T+" for "Older Teen"
In the year 2012, the trumpets of the apocalypse proclaimed the fall of humanity. Vampires rose from the shadows and began their reign over the Earth. A mysterious virus killed almost all adult humans, sparing those younger than 13 years of age. These children were subsequently enslaved as livestock for vampires. In 2016, the orphan
Yuichiro "Yu" Hyakuya
stepped forward, seeking revenge; his goal was to kill each and every vampire.
Seraph of the End: Vampire Reign

, Vol. 8
(Chapters 28 to 31) opens in Nagoya. The
Japanese Imperial Demon Army
has launched a mission to exterminate the vampire nobles of
Nagoya
. This city is believed to be a staging ground for a vampire attack on the human stronghold of Tokyo.
Yu and his fellow squad members find themselves facing off against
Lucal Wesker
, a vampire they must destroy. However, the extremely powerful noble,
Crowley Eusford
, and his vampire lackeys,
Chess Belle
and
Horn Skuld
, have managed to give themselves a huge advantage. Now,
Lt. Guren Ichinose
and his force must complete this mission and a few others in order to save the greater mission.
THE LOWDOWN:
The
Seraph of the End: Vampire Reign
manga remains a thoroughly enjoyable read, but sometimes it is an even more enjoyable manga than usual. There will be a volume in which a big reveal explodes onto the pages, or there will be a particular volume that depicts a great battle.
Seraph of the End: Vampire Reign Volume 8
is top-notch battle manga. It is good to see the humans take it to the arrogant vampire nobles, especially with some success. On the other hand, the battles are good precisely because some of the vampires are so formidable. This gives the humans goals for which they must strive that also gives the readers exceptional villains they can admire. Also, there are a few notable revelations that make Vol. 8 one of the series' top volumes so far, but as usual, there is always the suggestion that more crazy stuff is yet to come.
POSSIBLE AUDIENCE:
Fans of vampire manga will want to try of the Shonen Jump Advanced series,
Seraph of the End: Vampire Reign
.
A
Last Updated: January 24, 2022 - 11:00