Seraph of the End: Vampire Reign Volume 9
By Leroy Douresseaux
June 24, 2016 - 11:34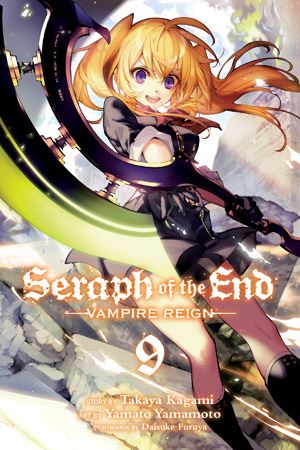 Seraph of the End: Vampire Reign Volume 9 cover image
Rated "T+" for "Older Teen"
The trumpets of the apocalypse proclaimed the fall of humanity in the year 2012. Vampires rose from the shadows and began their reign over the Earth. A mysterious virus killed almost all adult humans, sparing those younger than 13 years of age. These children were subsequently enslaved as livestock for vampires. In 2016, the orphan
Yuichiro "Yu" Hyakuya
stepped forward, seeking revenge; his goal was to kill each and every vampire.
Seraph of the End: Vampire Reign

, Vol. 9
(Chapters 32 to 34) opens, the attack in
Nagoya
continues. The vampire nobles fall away until the powerful vampire
Crowley Eusford
steps forward. He captures
Lt. Colonel Guren Ichinose
of the
Japanese Imperial Demon Army
. Now, Crowley wants to use Guren for information, but Yu refuses to leave Guren behind... even when Guren insists that Yu leave. Plus, Yu remembers his first years out of captivity and how his relationship with Guren came to be.
[This volume includes the bonus chapter, "Yu and Guren."]
THE LOWDOWN: The
Seraph of the End: Vampire Reign
manga is one of my favorite vampire comics. A thoroughly enjoyable read, the series has an ever-growing or evolving internal mythology.
Seraph of the End: Vampire Reign Volume 9
features a section of great fights built around the vampire Crowley Eusford, especially the battle between Eusford and Yuichiro. Vol. 9 is a like a double-stuffed Oreo because the equally enjoyable glimpses into the development of Yuichiro and Guren Ichinose relationship. I thought that I would be annoyed by the flashbacks, but I wanted more. It seems that there is a huge, yet unseen segment of Seraph of the End's narrative that takes place before the current story lines, which I want to read quite badly. This vampire manga reigns indeed.
POSSIBLE AUDIENCE:
Fans of vampire manga will want to try of the Shonen Jump Advanced series,
Seraph of the End: Vampire Reign
.
A
Rating: A /10
Last Updated: January 24, 2022 - 11:00