Kurohime: Volume 13
By Leroy Douresseaux
September 4, 2009 - 12:48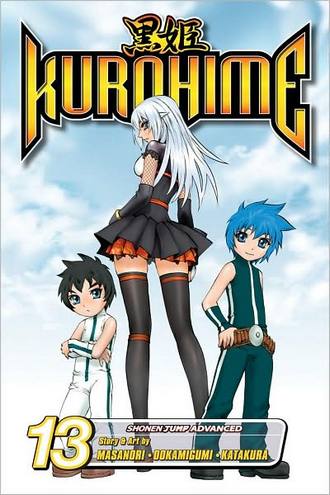 Kurohime Volume 13 cover image is courtesy of barnesandnoble.com.
Rated "T+" for "Older Teen"
Kurohime, the legendary witch-gunslinger, challenged the gods, and their punishment was to transform her into a little girl named Himeko. Kurohime regained her original body and powers because of the love of a highly skilled, young gunslinger named Zero, who died saving her life. In order to restore her powers to their fullest, Kurohime must gather the powers of the Four Spirit Kings, but is regaining her powers worth the cost – losing all her memories of Zero?
Kurohime has gone back in time to discover why her dead lover Zero has become the Death Angel, Dark Zero. She found Zero and his brother, Ray, in an army of child soldiers. With the help of her adversaries, the Kurohime Punishment Squad, Kurohime ended the war and freed the children. However, even with the war ended, Ray won't leave his "foster father," Dokku, the greedy and treacherous former leader of the Wolf Fang Army. Now, Kurohime, Zero, Ray, Dokku, Yûka (a girl who has some witch powers of her own), Raida (Zero and Ray's "big brother" from the Wolf Fang Army), and Tsucchi (Kurohime's pet-thing) are ready for their next adventure.
As Kurohime, Vol. 13 (entitled Bonds of Blood), begins, Kurohime and company are arrested for stealing the Freedom Alliance's treasury and end up in the prison castle, Alcatraz. Filled with hardened, murderous convicts and hordes of the undead, the castle's negative energy has activated a tremendous darkness within Ray. As the prison population devolves into warring factions, the shocking truth about Zero and Ray's history is revealed.
THE LOWDOWN: While the 12th volume of Kurohime was one of the better volumes in the series, Vol. 13 is no slouch either. Creator Masanori Ookamigumi Katakura apparently has an imagination that is a bottomless well of concepts when it comes to populating the world of Kurohime. A virtuoso display of inventive graphic imagery, this is a manga that can match the imagination shown in any other comic book. If Marvel Comics was once the House of Ideas, Kurohime is its own "industry of visual concepts," with its gargantuan library of gods, beasts, creatures, monsters, and even enchanted structures – to say nothing of the rainbow coalition of human characters.
POSSIBLE AUDIENCE: Readers looking for that "wow factor" when it comes to imagination will love Kurohime.
A
Last Updated: August 31, 2023 - 08:12