Kurohime: Volume 11
By Leroy Douresseaux
April 29, 2009 - 09:50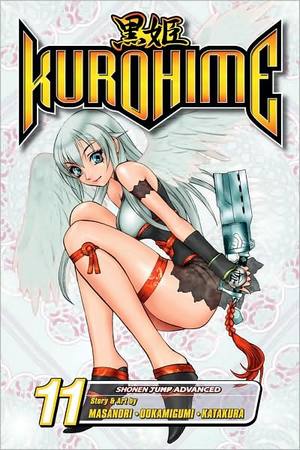 Kurohime Volume 11 cover image is courtesy of barnesandnoble.com.
Rated "T+" for "Older Teen"
Kurohime was the legendary witch-gunslinger who challenged the gods, so they punished her for this transgression by transforming her into a little girl named Himeko. Kurohime only regained her original body and powers because of the love a highly skilled young gunslinger named Zero. He died saving her life. In order to restore her powers to their fullest, Kurohime must gather the powers of the Four Spirit Kings. However, regaining her powers will cost her all her memories of Zero.
In Kurohime, Vol. 11 (entitled Hime vs. Hime), Kurohime and Onimaru have gone 10 years into the past in order for Kurohime to learn the secrets of Zero's past. The time travelers land in the middle of a battle of the Great War, which was fought between the black magic wielding Materen and the mercenaries of the Freedom Alliance, a war Kurohime ended. Soon, Kurohime finds herself fighting adversaries from all sides: the ghosts that inhabit the Lion Castle, witch-beasts, and the Kurohime Punishment Squad. And there on the battlefield is a young boy named Zero.
THE LOWDOWN: Creator Masanori Ookamigumi Katakura displays such wonderful imagination, as well as a fixation of gargantuan breasts and elongated cleavage – all stuffed into sports bras like overloaded sausage casings. Still, Katakura impressed me with a massive, hilltop fortress that appears early in this volume – a walking mountain of soil, granite, rock, super magic, and fantastic imagination. With each volume of Kurohime, I look forward to Masanori Ookamigumi Katakura's amazing visuals, and I'm never disappointed.
This volume of Kurohime also includes the second part of an origin story that looks back into Kurohime's past – specifically around the time the gods put the curse on her that transformed her into a child. "The Village of Love" features a giant lactating, horned, blonde bombshell goddess, a villain only comic book fans can truly appreciate and treasure. As I said last time, this alone is worth the $7.99 price.
POSSIBLE AUDIENCE: Genre fans who appreciate big breasts, big monsters, and big guns will want Kurohime even if they've never read manga.
A-
Last Updated: August 31, 2023 - 08:12