Kurohime: Volume 10
By Leroy Douresseaux
March 2, 2009 - 12:30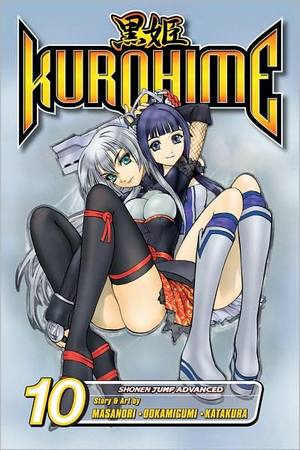 Kurohime 10 cover image is courtesy of barnesandnoble.com.
Rated "T+" for "Older Teen"
She was the legendary witch-gunslinger who challenged the gods. The gods punished Kurohime for her folly by transforming her into a little girl named Himeko. Kurohime only regained her original body and powers because of the love a highly skilled young gunslinger named Zero. He died saving her life. In order to restore her powers to their fullest, Kurohime must gather the powers of the Four Spirit Kings, but is the cost of regaining her powers – losing all her memories of Zero – worth it?
In Kurohime, Vol. 10 (entitled The Kurohime Punishment Squad), Kurohime and her allies arrive in Daitokai, the capital city of Yamato. Daitokai is also the home of one of Kurohime's crew, Kazuma Tokugawa, the swordsman prince, who is also the Shogun's son. Before they can enjoy some rest and relaxation, trouble arrives in the form of the Kurohime Punishment Squad, which lays waste to the city. Kurohime and friends find themselves overpowered, and Kurohime is out of witch-bullets and facing a squad of powerful witch-gunslingers.
THE LOWDOWN: Some years ago, I read an interview with an older Hollywood figure who described modern filmmakers to a reporter by saying, "They sure like their breasts, monsters, and guns." Obviously, I never forgot that quote, which fits Kurohime to a tee; plus, the art is fantastic. It's a fine shonen title because it's so visually imaginative. Combine that imagination with superb good girl art, and the boys who love shonen will love Kurohime. This volume also includes the first part of an origin story, "The Village of Love," which features a giant lactating, horned, blonde bombshell goddess. Believe me when I say that this alone is worth $7.99.
POSSIBLE AUDIENCE: What shonen fan wouldn't like Kurohime?
A-
Last Updated: August 31, 2023 - 08:12