Kurohime: Volume 6
By Leroy Douresseaux
June 24, 2008 - 09:06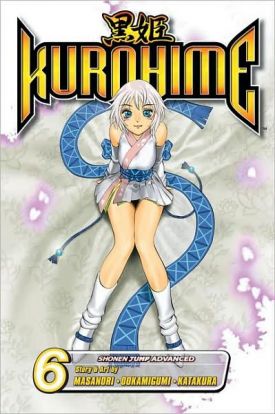 Thanks to barnesandnoble.com for the cover to Kurhohime 1.
Rated "T+" for "Older Teen"
Kurohime is the legendary witch-gunslinger who challenged the gods. As punishment for her folly, the gods transformed Kurohime into a little girl named Himeko. The only way she could regain her original body and powers was to fall in love. Kurohime did – with a highly skilled young gunslinger named Zero, but now he's dead.
In Kurohime, Vol. 6, Kurohime grieves for Zero, and although he loved her, that love only partially returned her original body and powers. Now, Kurohime is on a quest to resurrect Zero. With her companions Onimaru (a former gang leader transformed into some kind of small, mysterious dog/dino-like creature) and Asura (a sexy human female who is a devil), Kurohime sets out for the land of Yamato, the home of Asura's all-powerful boss, Yamatohime. Along the way, the trio gets dragged into a war between mermaids and the humans who catch merfolk and eat their flesh, falsely believing that it will grant them immortality.
THE LOWDOWN: When I read the first volume of Kurohime late last summer, I found myself impressed by the art produced by manga-ka (creator) Masanori Ookamigumi Katakura and his staff. I'm even doubly so this time around. I'm impressed by the cheesecake (those sexy well-proportioned female characters), the dexterity in cartooning human figures, and the highly imaginative ways in which Katakura and company can distort and deform their creations. In the context of the plot and narrative, Kurohime contains some of the most appropriate use of super-deformed and chibi I've seen.
POSSIBLE AUDIENCE: The sexy girls, the abundance of imaginative locales and fantastic creatures, and super fine art make this "Shonen Jump Advanced" title fun to read for fans of shounen manga (boys' comics).
A-
Last Updated: August 31, 2023 - 08:12