Kurohime: Volume 14
By Leroy Douresseaux
October 27, 2009 - 13:53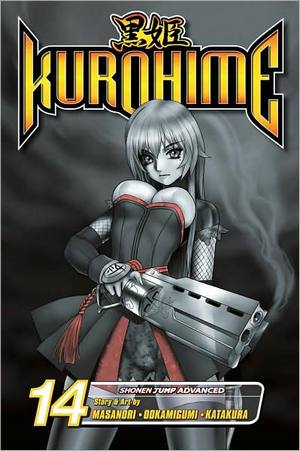 Kurohime Volume 14 cover image is courtesy of barnesandnoble.com.
Rated "T+" for "Older Teen"
When Kurohime, the legendary witch-gunslinger, challenged the gods, they punished her by transforming her into a little girl named Himeko. Kurohime regained her original body and powers because of the love of a highly skilled, young gunslinger named Zero. He later died saving her life, and after he died, Zero became the Death Angel, Dark Zero. Now, Kurohime has gone back in time to when Zero was a boy. Can she remove the seed of evil within him?
As Kurohime, Vol. 14 (entitled Choice), begins, Kurohime and company, which includes Zero and his younger brother, Ray, have arrived in a new town that is about to begin a fast-draw shooting tournament. The odds-on favorite to win is Jack, a tall, lanky human who possesses a witch-gunslinger's pistol and witch-bullets. Kurohime calls herself Himekojo, the world's greatest and most beautiful gunslinger, and enters the tournament. Young Ray, whose body holds a fragment of a death angel, challenges Jack. Can Kurohime save Ray before the boy's new-found fascination with Jack puts him onto the path of darkness?
[This volume also includes a bonus story: Kurohime Gaiden: Witch-Gunslinger Aohime.]
THE LOWDOWN: For many readers of shonen manga (comics for teen boys), one of the big draws of Kurohime is the beautiful title character, Kurohime, with her balloon-like breasts and her hips-don't-lie pelvic region. In fact, the art, in general, is quite good, regardless of what character or scene drawn. However, creator Masanori Ookamigumi Katakura can also offer excellent characters, for example, Zero's kid brother, Ray (or Rei). A fascinating character, Ray is a child soldier, orphan, possessed by dark forces, an abused child, and one angry little dude. He is the kind of character that will make the reader want to follow this series.
POSSIBLE AUDIENCE: Readers who enjoy the "Shonen Jump Advanced" line of manga will like Kurohime.
B+
Last Updated: August 31, 2023 - 08:12