Kurohime: Volume 7
By Leroy Douresseaux
September 15, 2008 - 14:50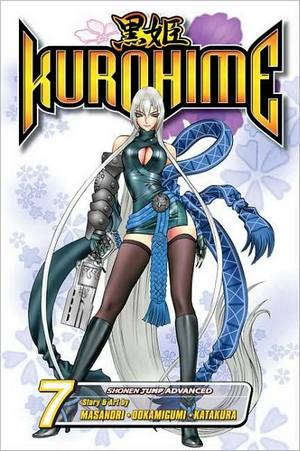 Thanks to barnesandnoble.com for the above cover image.
Rated "T+" for "Older Teen"
When the legendary witch-gunslinger, Kurohime, challenged the gods, they punished her for her folly by transforming her into a little girl named Himeko. The only way Kurohime could regain her original body and powers was to fall in love, and she did – with a highly skilled young gunslinger named Zero, but now he's dead. She must resurrect Zero before she loses all memories of him.
Kurohime, Vol. 7 finds Kurohime, her companions, Asura (the demon in the guise of a sexy teen girl), and Tsucchi (the mysterious dog, reptile, whatever creature), are on a mission to find the four great spirit kings (earth, air, water, fire). Her mission, however, is complicated by oni, arrogant gods, and the revenge-seeking, so-called Kurohime Punishment Squad!
THE LOWDOWN: This strikingly drawn manga, with its inventive creature and monster design, reminds me in some ways of D.Gray-Man (for its battles between beautifully drawn combatants) and Bleach (for its bizarre character menagerie). It's the pretty art, by manga-ka Masanori • Ookamigumi • Katakura and staff, that sets Kurohime apart from many shounen manga (boys' comics). It's like an eclectic spin on the epic fantasy quest, but with a buxom, big-gun-toting, sexy young woman as the hero.
POSSIBLE AUDIENCE: Older male teens and adult males will enjoy the adventures of the Angelina Jolie-like Kurohime.
B+
Last Updated: August 31, 2023 - 08:12