Indirect Currents
By Philip Schweier
February 17, 2015 - 10:28
"A bold new direction." Yeah, yeah, we've heard it before and we'll hear it again.

This time it comes from DC Comi – oops – DC Entertainment, regarding the shift in its New 52 Universe. Which is reasonable, because after more than three years, it aint so new anymore.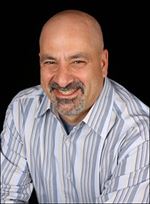 DC Entertainment co-publisher Dan DiDio

What I find most thought provoking is DC co-publisher Dan DiDio's statement, "In this new era of storytelling, story will trump continuity…"

Hmmm.

Okay, imagine this: Before you lies a gauntlet of comic book publishers, much like the midway at the county fair. Each booth has some carnival-style barker shilling his company's various properties in an effort to woo you, the reader. "Read our books! We have Marvelous artists," cries one. "Check us out! Our characters are Dynamite!" shouts another. And then somewhere amid the din all this shameless hucksterism, one voice cries, "Look over here! We have Dramatic Continuity!"

Really? Continuity? THAT'S what you're basing your sales pitch on?

Why people get worked up over month-by-month continuity is beyond me. You believe a man can fly, but you have problems if he's featured in too many titles over a 30-day period. That makes no sense.

Forty years ago, I could find the Caped Crusader in Detective Comics, Batman, Brave and the Bold, World's Finest and Justice League of America. I didn't fret over continuity, worrying how he could be on monitor duty for the JLA in one book while palling around Gotham City with Wildcat in another. Clearly, if one story took place over a few days, and Batman was on monitor duty for an eight-hour shift, it was conceivable that both stories could occur during the same month.

The truth of the matter is that after more than 75 years in business, the entity we know today as DC Comics has so many continuities, it can't possibly have any consistency. There's the Golden Age of the 1940s, the Silver Age of the 1960s, the Bronze of the 1970s, Pre-Crisis, Post-Crisis, the turbulent 1990s, Elseworlds, pre-New 52, New 52, and sub-categories within each.

Sure, to some people it might seem a confusing history to follow. When the New 52 was launched in 2011, the powers that be at DC declared that all those various eras "never happened." This denied creators the opportunity to tell what may have been excellent stories set in any of those eras.

However, in DiDio's recent statement, he went on to say that creators would be empowered "to tell the best stories in the industry." Maybe some of those wonderful stories he's promising will be set during the Golden Age. Or the Silver Age (New Frontier, anyone?)

Telling good stories? Gee, DC, what a great idea. You've finally hit on something that just might lead to people buying your books. Careful that other companies don't get wind of it. (Insert eye roll here.)

DC's press release also stated the publisher will focus on going "back to basics" with its legendary characters such as Superman. This led another comic book news site to speculate that the Post-New 52 era might see the return of a more familiar Man of Steel, complete with red trunks. I'm sure many fans would embrace the idea, but that's all it can be, an idea.

Sure, bring back a more classic Superman, but which one? Something reminiscent of the Golden Age, a la Max Fleischer? Or perhaps a Wayne Boring/Curt Swan hybrid? Or maybe you want the one that was married to Lois Lane, and drawn by John Byrne. Sorry, kids, John Byrne doesn't live here any more. He's moved on and left no forwarding address.

But any one of those eras of Superman could be considered a classic period, with the Man of Steel at a high point of popularity. It could be argued that those types of stories would appeal to readers most, continuity be damned.

About 15 years ago, I sent in an idea to DC Comics. With so many variations on the same character, was there a reason they all couldn't share the same title? Not simultaneously, but rotate them in/out based on available stories and reader preference. For example, Flash could feature a three-part Wally West story, followed by a two-part Barry Allen story. And then maybe a single issue Jay Garrick story, followed by a two-part Wally West. Or maybe Jay Garrick isn't so popular, in which case he could be a supporting cast member.

Each version could be written by a different writer, allowing for A.) continuity within each character's individual story arcs; and B.) greater lead time between story arcs, permitting each writer to put their best foot forward, instead of a marathon of one monthly issue after another. And fans could enjoy their favorite era of the given character.

It seemed like a win/win, but of course DC Comics chose to pass. Fine, they have that right, as do I and millions of other readers. Tell me a good story and you've got my attention. But when the stories fail to hold my interest, don't be surprised when I start looking elsewhere.

Me and millions of other readers.
Last Updated: August 31, 2023 - 08:12