Bleach: Volume 41
By Leroy Douresseaux
June 4, 2012 - 14:06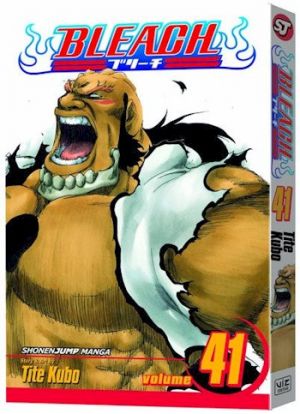 Bleach Volume 41 cover image is courtesy of Anime Castle Books.
Rated "T" for "Teen"
Ichigo "Strawberry" Kurosaki has the ability to see ghosts, a gift for which he neither asked nor wanted. Then, a kind of malevolent lost soul called a "Hollow," attacked his family. Ichigo met Rukia Kuchiki who brought him into the world of the Soul Reapers and the Soul Society. Now a Reaper himself, Ichigo protects the innocent and helps tortured spirits find peace.
As Bleach, Vol. 41 (entitled Heart) opens, Orihime Inoue is frantic to find Ichigo. She thinks that he lost his battle with the powerful Espada, Ulquiorra. Actually, Ichigo is just fine… or maybe not. The young Soul Reaper has released his really dark side, which may give him victory at the cost of his soul. Now, the final stage of his battle with Ulquiorra will end with one of them dead.
Meanwhile, Yammy Llargo gets ready to show the true awesomeness of his powers. Back in Karakura Town, the Soul Reaper captains take on what is left of the Espadas. One of Espadas, however, is determined to be the death of the Soul Reapers, and he has the powers to do it.
THE LOWDOWN: Back to back volumes of the Bleach manga gave me all the battle manga I needed. I flipped through the pages of the Ichigo/ Ulquiorra battle as if my life depended on it; what a glorious comic book fight. Then, Yammy drops a big bomb on his Soul Reaper opponents. Is this heaven? The last third of Vol. 41 takes us back to Karakura Town where a creepy skull-headed villain offers skin-crawling displays of power. It shows that decay and rot can look really good in a comic book, and Bleach reminds me of how fun it is to read a comic book.
POSSIBLE AUDIENCE: Those who want the best of Shonen Jump battle manga will want Bleach.

Rating: A /10
Last Updated: August 31, 2023 - 08:12