Afterschool Charisma: Volume 10 manga review
By Leroy Douresseaux
December 14, 2014 - 18:19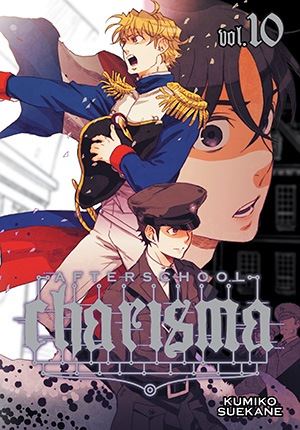 Afterschool Charisma Volume 10 cover image is courtesy of barnesandnoble.com.
Follow me on
Twitter
.
Rated "T+" for "Older Teen"
St. Kleio Academy
is a very exclusive school. It is a private school dedicated to the education of young people who are clones of great historical figures. The student body includes clones of
Napoleon Bonaparte
,
Sigmund Freud
,
Adolph Hitle
r, and
Florence Nightingale
. For a long time,
Shiro Kamiya
believed that he was the only non-clone student at the school, but he is actually a clone of
X
, the founder of St. Kleio Academy.
As
Afterschool Charisma
, Vol. 10 (Chapters 55 to 60) opens,
Naoto Kuroe
, the son of X, tells Shiro that he is the only hope for the salvation of St. Kleio. Shiro is reticent about playing hero, especially because he is mistrustful of adult intentions. Clone Hitler also offers Shiro a place in "
The Strikers
," a group of assassins that hunts clones, although the Strikers are also clones.
Shiro decides to return to St. Kleio, determined to help the school, but he raises suspicion when he returns with someone considered a traitor, clone
Queen Elizabeth
. Meanwhile, Kai, a graduate of St Kleio, and a clone of X, conspires with clone Hitler to bring down the academy. Shiro counters their public relations campaign with one of his own.
THE LOWDOWN:
Because of its subject matter, it took some time for me to warm to the
Afterschool Charisma
manga. I have never been a fan of the idea of cloning people – talk about icky. To me an attack of the clones might be worse for humanity than a devastating global pandemic.
However,
Afterschool Charisma Volume 10
does offer some intriguing philosophical and sociological discussions. Should the clones go with the flow of history or try to make new lives for themselves in the context of current times? The adventures of Ikkyu (a famous Japanese Zen Buddhist priest and poet), a clone who runs away for a day of freedom, raises questions about what the outside world really offers for clones. Are normal, non-clone people really living lives that are truly free? Are they taking advantage of what life has to offer or are they merely just living in their "situation?"
Every so often,
Afterschool Charisma
manages to surprise, especially when creator
Kumiko Suekane
decides to be adventurous with this concept. I'm ready for more.
POSSIBLE AUDIENCE:
Readers looking for unusual science fiction drama will want to give the VIZ Signature/IKKI Comix title,
Afterschool Charisma
, a try.
Last Updated: August 31, 2023 - 08:12