Afterschool Charisma: Volume 8 manga review
By Leroy Douresseaux
October 12, 2013 - 14:59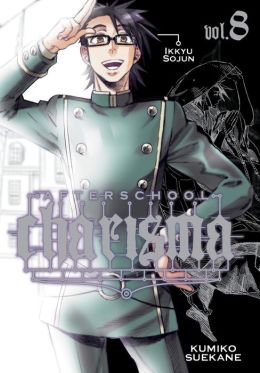 Afterschool Charisma Volume 8 cover image is courtesy of barnesandnoble.com.
Rated "T+" for "Older Teen"
St. Kleio Academy is a very exclusive school. How very is very? St. Kleio is a private school dedicated to the education of young people who are clones of great historical figures. Among the students are Napoleon Bonaparte, Sigmund Freud, Adolph Hitler, and Florence Nightingale. Shiro Kamiya believed that he was the only non-clone student at the school, but he is actually a clone of the founder of St. Kleio Academy.
Afterschool Charisma, Vol. 8 (Chapters 43 to 48) opens in the aftermath of St. Kleio's media day. What should have been an exiting occasion turned bloody because of an attack on the students. Shiro, who had pushed hard for this open house of sorts, grieves the bloodshed and failure. Meanwhile, clone Hitler plots.
Shiro had joined the Leonardo Da Vinci Foundation, an organization that wants to make the world a better place for cloning, with the hopes of doing something good for the clones. Now, with clone Marie Curie in tow, Shiro escapes the foundation. He meets politician Robert Green and... Jesus Christ.
THE LOWDOWN: The Afterschool Charisma manga maintains its "eerie" and "creepy" vibe. However, Afterschool Charisma Volume 8 delves more into the internal dramas of certain characters. Shiro's existential crisis is surprising, but it happily makes him a darker character, whereas, for the most part, he's been kind of puffy.
This is a sign that creator Kumiko Suekane is expanding the scope of her narrative, as well as making the plot more complex. The story takes a slight turn to the philosophical or some attempt at it. Are clones of historical figures the resurrection of those figures? I don't know, but it opens up the potential for lots of conflict in Afterschool Charisma.
POSSIBLE AUDIENCE: Readers looking for unusual science fiction drama will want to give the IKKI Comix title, Afterschool Charisma, a try.
Rating: B+ /10
Last Updated: August 31, 2023 - 08:12