Afterschool Charisma: Volume 7 manga review
By Leroy Douresseaux
January 12, 2013 - 15:57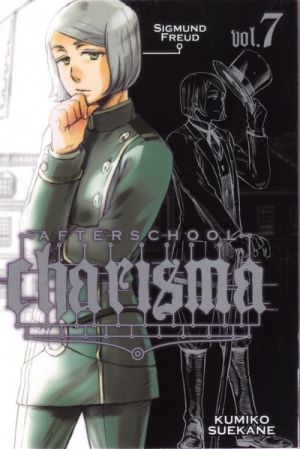 Afterschool Charisma Volume 7 cover image is courtesy of barnesandnoble.com.
Rated "T+" for "Older Teen"
St. Kleio Academy is a private school dedicated to the education of the clones of great historical figures. This exclusive school counts among its students Napoleon Bonaparte, Sigmund Freud, Adolph Hitler, and Florence Nightingale. Shiro Kamiya believed that he was the only non-clone student at the school, but he is actually the clone of the founder of St. Kleio Academy.
As Afterschool Charisma, Vol. 7 opens, the secretive group that controls St. Kleio Academy confronts Rockswell, the school's director. There is anger over the recent attacks launched on the school by Striker, a terrorist group in which the members are clones. Shiro and his father, Dr. Kamiya, have a talk in which the good doctor tells him the truth about both of them.
Later, Shiro moves to the Leonardo Da Vinci Foundation, an organization that wants to make the world a better place for cloning. The foundation's head, clone Leonardo Da Vinci, has high expectations of Shiro and pushes the young clone to offer his opinions. Meanwhile, an opportunistic media outlet makes the clones a big story.
THE LOWDOWN: Once again, when it comes to the Afterschool Charisma manga, I can still use the terms, "eerie" and "creepy" to describe this series. This is doubly true in the seventh volume, as clone Adolf Hitler becomes a public figure. With the clones splitting into "good side" and "bad side," the narrative practically hints at coming sectarian strife. Best intentions and utopia: sounds like a few ingredients that might help to fill this science fiction pot boiler with some genocide stew. For a series prone to sudden outbursts of violence and murder, I suspect more bloodshed will come.
POSSIBLE AUDIENCE: Readers looking for unusual science fiction drama will want to give the IKKI Comix title, Afterschool Charisma, a try.
Rating: A- /10
Last Updated: August 31, 2023 - 08:12