Afterschool Charisma: Volume 6 manga review
By Leroy Douresseaux
Oct 19, 2012 - 15:57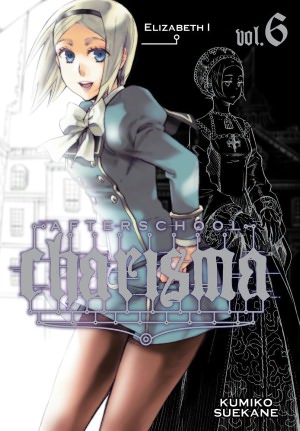 Afterschool Charisma Volume 6 cover image is courtesy of barnesandnoble.com.
Rated "T+" for "Older Teen"
How can St. Kleio Academy count among its students Napoleon Bonaparte, Sigmund Freud, Adolph Hitler, and Florence Nightingale? The answer is that St. Kleio is an exclusive school for youngsters who are clones of historical figures. Shiro Kamiya is the only non-clone student at the school, or is he?
They are the Kia clones, the guardians of St. Kleio. As Afterschool Charisma, Vol. 6 opens, one of the Kias, the most rebellious of a rather independent-minded lot, tells Shiro and his classmates stories of earlier clones of Adolph Hitler, Florence Nightingale, Joan of Arc, and more. Why did they fall apart mentally and emotionally? Why did a Kia go on a killing spree? What does the future hold for the current crop? And why can't Mozart write a new jam (musical composition) that sounds like… well, Mozart?
THE LOWDOWN: My reviews of the Afterschool Charisma manga usually include the words "eerie" and "creepy." This is a fascinating series, but it is plagued by a sense of sameness, with only occasional flourishes of change. That change usually comes in the form of sudden violence, and in those moments, this series seems to have something to say. It suddenly becomes edgy and violent and even a bit subversive, so let me, at least, add the words "edgy" and "violent" to my reviews of Afterschool Charisma.
Volume 6 is an entire book of surprises, and characters begin to play cruel mind games with one another. Perhaps, creator Kumiko Suekane has arrived at a moment when she is raising the stakes in Afterschool Charisma. The characters should look out, and so will I.
POSSIBLE AUDIENCE: Readers looking for unusual science fiction drama will want to give Afterschool Charisma a try.
Rating: A- /10
Last Updated: Dec 19, 2017 - 22:52