Afterschool Charisma: Volume 9 Advanced manga review
By Leroy Douresseaux
April 13, 2014 - 15:53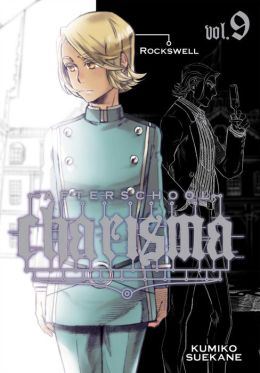 Afterschool Charisma Volume 9 cover image courtesy of barnesandnoble.com.
Rated "T+" for "Older Teen"
St. Kleio Academy is an exclusive school. It is so exclusive because it is a private school dedicated to the education of young people who are clones of great historical figures. The student body includes clones of Napoleon Bonaparte, Sigmund Freud, Adolph Hitler, and Florence Nightingale. Shiro Kamiya believed that he was the only non-clone student at the school, but he is actually a clone of the founder of St. Kleio Academy.
Afterschool Charisma, Vol. 9 (Chapters 49 to 54) opens in the aftermath of Shiro's betrayal at the hands of the Da Vinci Foundation. Meanwhile, St. Kleio's mysterious and highly-secretive board of directors plots to bring the clones of two giant historical figures into conflict, for their benefit.
Alarmed at how hopeless and depressed Shiro is, Naoto Kuroe, a professor at St. Kleio, decides to tell Shiro about the founder of St. Kleio, Doctor X. X is Kuroe's father, and Shiro is a clone of X. Kuroe's story reveals his fractured relationship with his father, and his contentious relationship with Kamiya, a clone of his father. Then, there is young Rockswell, and his rivalry with the clone students of St. Kleio.
THE LOWDOWN: It took some time for me to warm to the Afterschool Charisma manga. Afterschool Charisma Volume 9 is the payoff for readers who have followed the series from the beginning or at least for several volumes. Rather than reveal every detail about the beginnings of St. Kleio, creator Kumiko Suekane focuses on the man who is (or at least seems to be) the genetic starting point for the clones.
I have described this series as having an "eerie and creepy" vibe. That goes double for this volume, once the father/son/clone, who-made-whom triangle becomes a dominate story point. I know if I met a clone of my father, which would also be genetically my father, I'd puke. I think Vol. 9 would make the effort of going back to the beginning of Afterschool Charisma worth it for new readers.
POSSIBLE AUDIENCE: Readers looking for unusual science fiction drama will want to give the IKKI Comix title, Afterschool Charisma, a try.
Rating: A /10
Last Updated: August 31, 2023 - 08:12